Ghee is the clarified butter that is used as a basic ingredient in the kitchen for cooking. It has a special place when it comes to taste and aroma. Did you know desi cow ghee is used as a beneficial agent for the skin, hair and many more? It is also used as a beauty product to overcome various beauty-related problems.
Desi ghee has now become the most trending and antiallergic dairy food that can be easily used by our elders and our family without any hesitation. Elders of the family only suggest we use ghee not only for cooking but also for various numerous other beauty factors. We all have grown up eating grass-fed cow ghee in different forms in different regions and even used it for our skin, hair, and health.
Using desi ghee for combating hair problems or conditioning may seem like an odd thing to some folk because it is essentially clarified butter. It is mainly prepared by simmering butterfat until most of the moisture is taken out and the milk solids divide from the butterfat.
Ghee is one of the richest form forms of fat that you shall nourish your body from within. This tasty food element has now become part of our culture, lives, food, and memories for a long-lasting time.
You might be wondering, how can ghee be superior to the cosmetics you get in the market? How can it cure those beauty problems which modern products cannot? How can I believe it? Should I switch to ghee from the spa treatments? etc… There can be many such questions.
The reason to write this article is to explore the benefits of ghee as a beauty enhancer!! Read more to know…
1. Moisturizer
Are you suffering from dry or blistering skin type? Then grab a jar of ghee at our online store https://sureshfoods.com/ to buy pure desi ghee. It acts as a moisturizer for dry skin. It is one such ingredient that is suitable for all skin types.
Using ghee for the face as well as over the skin can be very useful as it goes into the skin and its fat gives a protective coating that can overcome dry skin. It also helps from dehydration of the skin and also from the cold, hot or windy climatic changes which in turn affect the skin health.
Add 2-3 tablespoons of gram flour and 1 teaspoon of ghee; 1 teaspoon of turmeric powder and mix it well with milk until it becomes a fine paste. Apply it over your skin and wash it after 20-25 minutes after it dries with plain water.
By doing this regularly you can have soft and supple skin. By applying pure desi ghee to your face you can get glowing and soft skin. See that you use organic grass-fed ghee to get amazing results for a longer time span.
Not just preparing the mask, you can also smear ghee on the face before you take bath or add ¼ cup of ghee and 10-15 drops of lavender essential oil to the warm bath and soak for 15 minutes every day for shiny and soft skin.
You can also apply ghee on the face overnight to get the maximum moisturizing as well as brighten up your skin from within as the pores of your skin get opened due to its cooling effect.
2. Anti- aging
You can have pure desi ghee in your balanced diet or spread it over your chapati, add a spoonful of ghee to your regular rice and dal. If you like having it just like that, you can even have a spoon of ghee regularly to promote anti-ageing. So by consuming ghee you can get rid of early wrinkles and look young and energetic.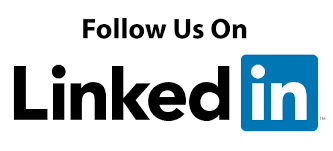 Read our blog – Is ghee good for acne?

3. Soft and supple lips
Say no to the use of lip moisturizers or lip cares every hour to get rid of your dry and dark looking lips. Dry and chapped lips can be one of the annoying conditions which can be cured with a simple home remedy.
Use a few drops of ghee and softly massage your lips before you sleep. By doing this regularly you can have soft and pink lips. By massaging your lips with ghee you can exfoliate the dead skin and thus get rid of dark lips.
4. Eye brightener
Are you suffering from dull eyes or dark circles around your eyes? Then massage softly the area around your eyes. Desi pure ghee can be used to brighten the area around your eyes as it acts as a lubricant.
5. Soothes the burns
Burns may be either small accidental burns or sunburns. You can get rid of them by using ghee. Apply ghee over the burns which can give you relief from the burning sensation. It is said that it can heal burns quickly.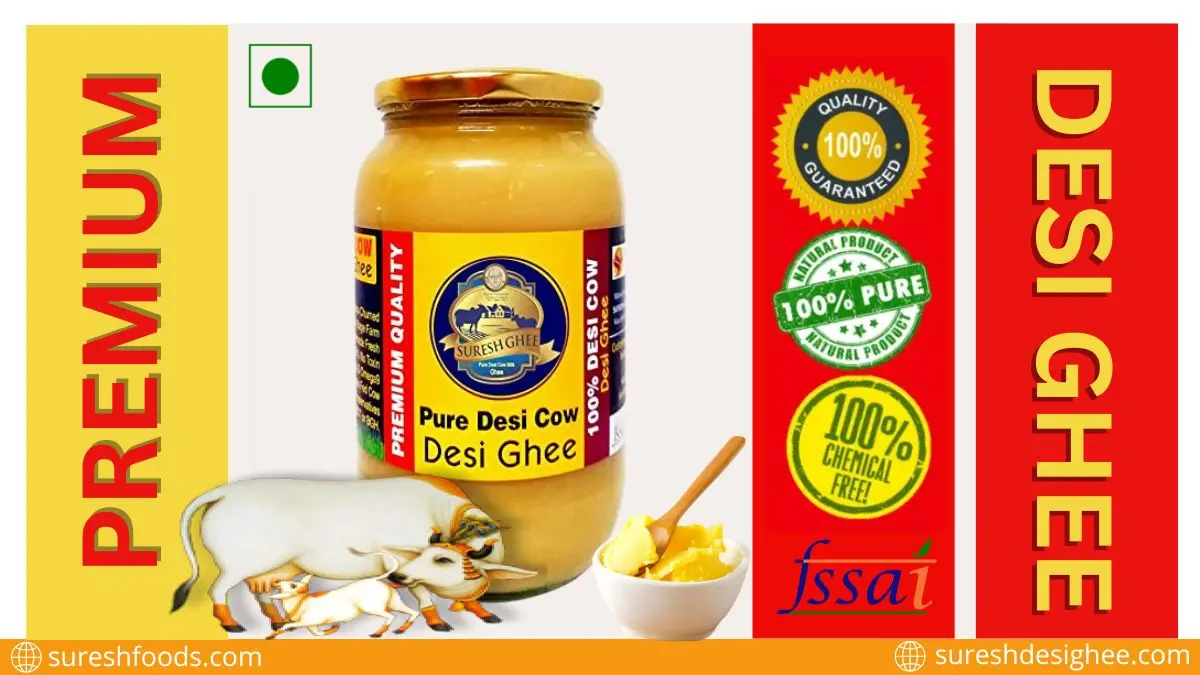 6. Heals cracked heels
If you are using petroleum gels to get rid of cracked heels then give even des cow ghee a try! By applying ghee over your heels regularly before you sleep can benefit you with soft heels.
Read our blog – Ayurvedic Natural Wound Healing: How Ghee Is Used
7. Hair conditioner
Desi ghee acts as a conditioner to the hair and thus makes your hair soft and strong. The use of desi ghee for hair growth will also benefit you with long and shiny hair.
Mix 2-3 tablespoons of ghee to 1 tablespoon of coconut oil and heat them for say 15 seconds. Then add a few drops of essential oil to it. Apply it to your hair and cover your hair with a shower cap. After 30 minutes wash your hair. For silky smooth hair use the best desi ghee for hair growth also.
8. Split ends
It is a common issue in girls or women who are fed up with split ends. Do you want to get rid of them? Then apply ghee to the ends of your locks. Wash your hair after an hour with any shampoo that you use regularly. By doing this regularly you can get rid of split ends for a longer period of time.
9. Body massage
A massage is an old act practised for many years. There are various forms of massage which are related to health purposes. Regular massage keeps the body active and relaxed. It promotes good blood circulation, elimination of top layer dead cells, re-moisturizes the skin and lets you sleep peacefully etc.
The best ghee for babies is used as an oil to massage the body. We can usually see babies getting massaged regularly by ghee or coconut oil. It is recommended in Ayurveda to massage your body with ghee 2-3 hours before you take bath.
Buy Pure Desi Cow Ghee Online : Order Now. Free Shipping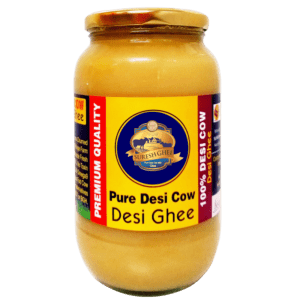 Read our blog – Glorious Ghee
10. Promotes immunity
Ghee is one such ingredient that is loaded with antioxidants which is helpful to absorb vitamins and minerals in the body. Desi ghee is also said to be an immune booster. Thus, it is very important to have a balanced diet every day. Consumption of a particular amount of ghee in your diet can be very beneficial to increase the immunity of your body. Drinking milk with ghee every day will also benefit you.
11. Improves eyesight
Consumption of ghee every day can also help in improving eyesight. There is an Ayurvedic treatment called the "Netra tarpana" which is also called an eye bath. It is very beneficial to cure eyesight issues as well. Do not use too warm ghee in your eyes as it may result in further damage.
12. Treats Eczema
Ghee is having more than an excellent moisturizer. It is also helpful in the treatment of eczema. If you find that your body is having scaly itchy eczema, then take ghee on your palm and apply it to those patches to keep moisturized. Also adding ghee to the diet helps to reduce inflammation from inside your body and eczema is based on inflammatory skin conditions so use ghee in both ways.

How to apply Desi Ghee on the Face overnight as a face mask?
Try desi ghee on your face for better results or better skin. By the use of pure desi cow ghee, you will get smooth, bright, and soft skin by one product use. This is a real fact that it benefits skin-related issues or medical treatment.
Applying ghee on your face overnight helps in skin moisturization, soft, bright, and healthy, Although it gives the best results people with oily skin should avoid this remedy. Consumption, as well as application of ghee both, act amazing against anti-ageing products for your skin.
Follow the steps to apply ghee overnight. Maybe you feel greasy on the face but it results in great results in front of other beauty products. This skincare routine works wonders for dry skin people.
Take a teaspoon of ghee in your palm and add a few drops of water to it.
Apply this mixture evenly on the face.
Massage your face in a circular motion by fingers and palm gently, keep it overnight on your face.
Use lukewarm water to wash your face.

Isn't this amazing? In a world where people were neglecting ghee because they believed in the myths of ghee even before using it, did you ever think even ghee could be used as a beauty enhancer? Now that you are aware of its immense benefits, start using ghee regularly in not just your diet but also to relish its value.
Use of a2 desi ghee for hair growth; applying ghee for the face or applying ghee on the face overnight can help in brightening and moisturizing; it is also an immune booster; the best ghee for babies will also help to brighten up the skin tone of the kid; drinking milk with ghee every day, will solve many of your ailments.
You cannot expect too quick results but the use of ghee regularly to boost your beauty can make you satisfied in the end. You will surely not regret it!! Make sure you are using organic grass-fed ghee. To buy the best desi ghee you can visit our online store https://sureshfoods.com/.
WAYS TO USE GHEE
Benefits of Using Ghee Face Pack:
Constant application of such a face pack delivers a velvety, baby-soft skin, displaying one of the noticeable beauty benefits of ghee.
The rich vitamin consistency in ghee, involving A, D, K2, E, and antioxidants, delivers an efficient anti-aging treatment for the skin, sustaining its natural radiance.
The existence of K2 in ghee improves calcium absorption in the diet, enhancing strong and resilient bones, an astonishing beauty benefit of ghee.
Such determines just a few of the beauty perks connected with ghee; however, to completely experience such remarkable advantages for your hair and skin, constant utilization of ghee is necessary.
How to Incorporate Ghee into Your Beauty Routine:
Unlock the outstanding beauty benefits of ghee by straightaway massaging lukewarm or melted ghee to your hair. Here are two easy methods:
Warm up a few teaspoons of ghee gradually until it transforms a liquid. Apply the melted ghee gently onto the scalp and roots of your hair in a lukewarm condition.
Combine ghee along with a carrier oil like coconut, almond, or olive oil. Massage the combination to dry hair. Allow the oil to sit on your scalp for 45 minutes to one hour before rinsing off your hair with a mild shampoo.
Implement this ghee treatment into your daily routine at least twice a week to see the results of the outstanding beauty benefits, leading to a naturally bouncy and silky-smooth hair.