Dhanteras, Dhanatrayodashi or Dhanvantari Trayodashi is the first day of Diwali. 'Dhan' means wealth or money and 'Teras' means the 13th day of Krishna Paksh. On Dhanteras people purchase precious metals like gold, silver and precious gemstones etc. It is believed that buying precious metals on this day signifies prosperity and wealth throughout the year. Goddess Lakshmi and Lord Kubera are worshipped with utmost devotion. Every festival celebrated in India has its own story and reasons.

Let us know more about the reason behind celebrating Dhanteras!

Why is Dhanteras celebrated? What are the stories related to the celebration?

In the ancient times, there lived a King named King Hima, he had a 16 year old son. His son's horoscope predicted his death would be caused by a snake-bite on the 4th day of his marriage. As time passed, the boy got married and on the 4th day of their marriage, his wife does not allow him to sleep. His wife laid all her ornaments, gold, silver coins in a heap at the entrance of the room. She lit lamps all over the room and kept her husband busy by narrating stories, singing songs. The next day, Yama (the god of death) arrives at the room's doorstep in the form of a snake. His eyes were dazzled by the brilliance of lamps and the jewellary. It became difficult for the snake to enter the room and the snake spent the whole night listening to the songs, stories and went away by morning. It is believed that the King's son i.e, the Prince's life was saved due to his clever wife and is thus celebrated as Dhanteras. In the evening an oil lamp made of wheat flour is lit and placed outside the house facing southwards. This is done in order to prevent the untimely death as it is believed that Yamadev had given an assurance to his attendants that whoever performs the dipayana on Dhanteras followed by four days of Diwali will not suffer untimely death.

Dhanteras also celebrates Dhanwantri, the Ayurvedic Physician of the Gods. According to Ayurveda, the Deity Dhanvantri's birthday falls on this day. Deity Dhanvantari is worshiped by the Ayurvedic doctors and it is also believed that one should pray to him even before taking the medicine, for the effectiveness of the medicine.

The other belief about Dhanteras is, Lord Vishnu's hidden energy flows through Goddess Lakshmi's Surya Nadi. Hence the rays generated by the sun on this day is filled with "Tej-tatva" i.e, this light is filled with prosperity and richness. Lord Ganesha – destroyer of obstacles, Goddess Lakshmi – creator of wealth and Lord Kubera – distributor of wealth are worshiped together in order to bless them with wealth, health and happiness.

How to celebrate Dhanteras?
People clean their homes, paint the homes, decorate the entire house and will always light a lamp to welcome Goddess Lakshmi inside.
Some also put rangoli of goddess Laksmi's footprints or stick readymade footprints.
People wear new clothes and jewels.
In the evening women light lamps and perform pooja to Goddess Lakshmi and Lord Ganesha. They chant mantras, shlokas and bajans in the evening during the pooja.
During the pooja, a kalash is placed on a new cloth and handful of grains are put on the base of the kalash. ¾ th water/ gangaajal is filled in the kalash. 2 betel leaves, 2 betel nuts, a flower and coin with some rice grains are placed in it. Some also place a coconut on the kalash and arrange 5 types of leaves in between the kalash and the coconut. God's idols or images, some silver coins are kept with the kalash. There may be other variations depending upon their beliefs and practices.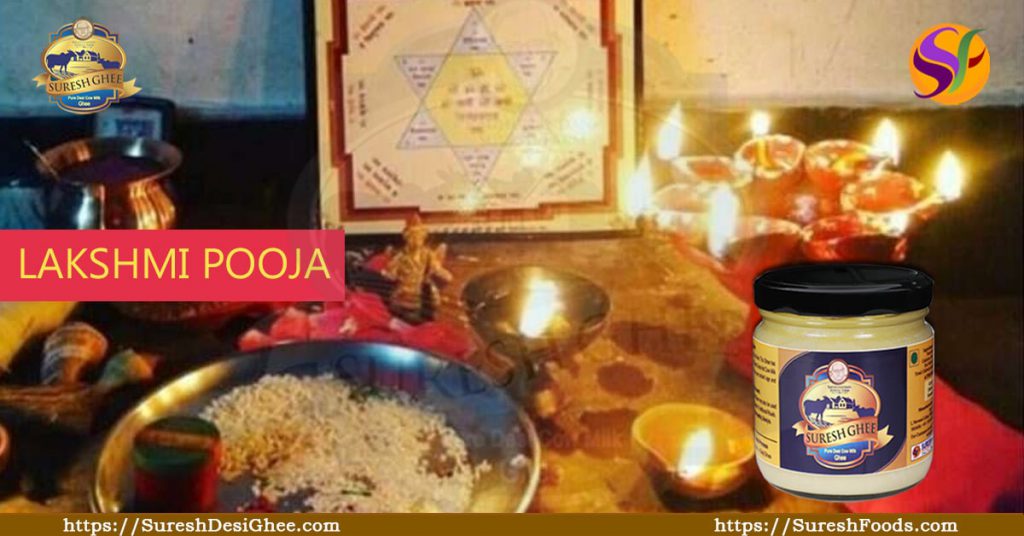 The best time for lakshmi pooja is during Pradosh Kaal. Pradosh Kaal starts from 5:38 and ends at 8:13. It is believed that performing pooja at this time makes goddess lakshmi stay in your house.
The house premises is decorated with lighted diyas as it is believed that it removes the negative or evil spirits shadow from entering inside the house.
Rituals on Dhanteras
It is considered the most auspicious day to purchase new items, especially metals on this day.
Purchase of gold, silver and utensils are believed to be a sign of good luck which will remain throughout the year.
Some also buy new broomstick on this day with a belief of sweeping poverty from the house along with the dirt.
Businessman/ businesswomen also perform pooja to their cashbox.
Naivedyam for Lord Ganesha, Goddess Lakshmi and Lord Kubera
Along with wealth comes good food as well! During the pooja, naivedyam is offered to the gods to bring in good fortune and happiness. Here are some naivedyam recipes prepared in different parts of our country.

1. Atte ka halwa and atte ka ladoo
People prepare atte ka halwa, atte ka ladoo for naivedyam on Dhanteras. Atte ka halwa is made using atta (wheat flour), desi ghee and sugar and water (dry fruits optional). It is a melt in the mouth sweet which can be easily prepared without any extra efforts. Atte ka ladoo is also a similar sweet which is loaded with taste, flavour and nutrition.

2. Motichur ladoo
Motichur ladoo is considered to be one among Lord Ganesha's favourite sweets. Though preparation of Motichur ladoo is a time consuming process, it is worth the efforts. 
Check out this video and try to prepare the mouth-melting sweet at home this Dhanteras
3. Kesar rice sweet
 Kesar rice sweet is a sweet dish which mainly contains basmati rice. It is considered auspicious to eat kesar rice sweet on Dhanteras as rice is also a good sign of wealth. 
Check our Diwali special sweets blog – Diwali Recipes | Collections of Diwali Sweets Recipes. You can also check out other recipe options on our website, visit our blog Suresh Foods. 
India being a land of diversity is filled with the fragrance of religions. India is known for its festivals and festivals are a pride and treasure of our country. People of different religion, caste, creed celebrate the festival of Diwali with the feeling of brotherhood and love. 
We wish you a Happy and Prosperous Diwali from Suresh Foods!!