Dry fruits are a good option during the fasting time. They provide great energy with little consumption. Most of the dry fruits are rich in vitamins, minerals, proteins, fibre and are tasty too. Dry fruits are one of the best energy enhancers which gives better results when added in daily diet. It not just improves health but also makes digestion easier. Dry fruits like almonds, raisins, dates, badam and pista are traditionally known as a powerhouse of nutrients.

Here is a mouth watering and nutritionally loaded dry fruits recipes that will keep you filled while fasting period.

1. Dry fruits laddu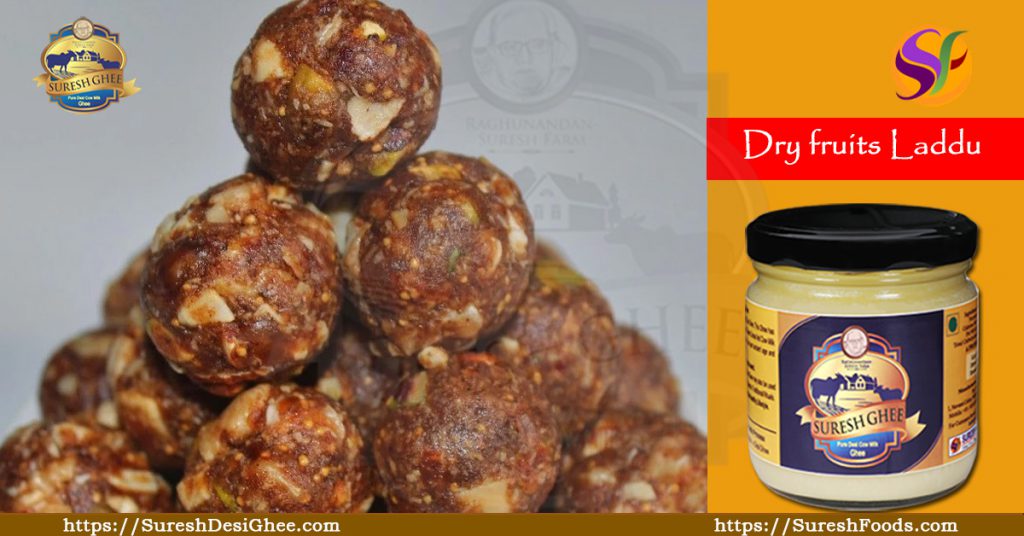 Ingredients
Dates – 15
Figs – 5
Raisins – 20
Badam – 25
Cashews – 10
Pista – 20
Cardamom powder – ⅛ tsp
Melted ghee – 1 tsp
Directions
Deseed the dates and chop them roughly. Blend the dates in the mixer and pulse it for about 2 minutes. Keep it aside.
Take figs and raisins, chop them roughly and grind together to a coarse mixture. Set them aside.
Toast badam and cashews till it's slightly brown, add pista and fry it for 2 more minutes. Blend it to coarse powder.
Now take a pan, add a teaspoon of ghee.
Add the blended mixture to the ghee and salute it for 5 minutes in low flame; let it become soft.
Now add the blended dates into the mixture and continue to fry the mixture on a medium flame. Keep mixing them well and see to that you don't let them stick to the sides of the pan.
Add cardamom powder and continue to salute.
Once you observe that the dates has started releasing oil, turn off the flame.
Allow it to cool for 2 minutes and start making laddus.
Your healthy and tasty dry fruits laddu is ready to be served.
Tips to follow
You can use coconut and nuts as well.
If you are too much of a 'sweet tooth', you can add more dates to your laddu.
See to that you don't end up making a fine powder of the dry fruits.
Do not let the mixture to cool down completely after you turn off the flame.
If you have cooled down the mixture way too much, you can salute the mixture on a tawa for a minute or microwave it for a minute as well.
2. Dry fruits milkshake

Ingredients
Badam – ¼ cup
Raisins – ¼ cup
Cashews – ¼ cup
Dates – 8
Figs – 2
Sugar – as per requirement
Milk – 2.5 cup
Saffron – 1 pinch
Directions
Soak the dates and figs in hot water if they are hard for about 2- 3 hours.
You may also soak the other dry fruits if you wish to.
Once the dates and figs have softened, chop them roughly.
Take a blender and add the dry fruits into them.
Add ½ cup of milk, add a pinch of saffron and blend the mixture until it becomes a fine paste.
Then add the remaining milk and some sugar if required. You can also skip sugar.
Blend it again, stir it and pour them into the glasses.
Your mouth-watering dry fruits milkshake it ready to drink.
Tips to follow
You can make changes in the measurement of dry fruits according to your requirement.
You can take soy milk, dairy milk or anything of your choice.

3. Badam Pista barfi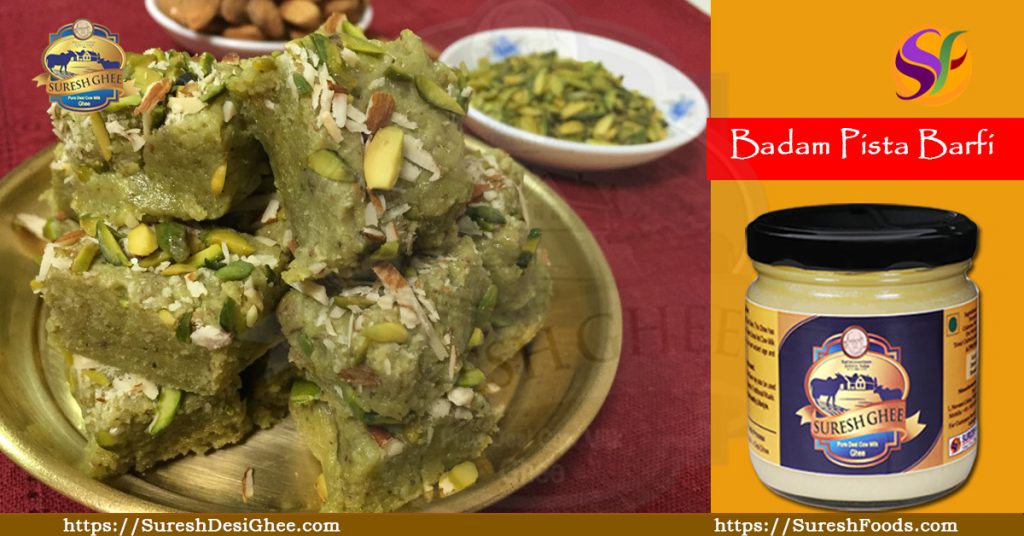 Ingredients
Khoya – ¾ cup or 100 gms
Badam – ½ cup
Pista – ½ cup
Raisins – ½ cup
Sugar – ⅓ cup
Desi ghee- ¼ tsp
Chopped almonds – 1- 2 tbsp
Cardamom – 3 pods
Directions
Heat a pan on low flame and add almonds, pistas and roast them for about 2-3 minutes. See to that, they do not turn brown.
Once the almonds and pistas cool down, blend them with cardamom seeds to a powdery texture.
In the same pan, grate khoya and add sugar to it. Give it a good mix.
Keep stirring the mixture continuously on a low flame.
Once you observe that the mixture is bubbling and thickening, turn off the flame.
Add the dry fruit powder to the mixture and mix them well.
Grease a tray with desi ghee and pour the mixture onto the tray.
Spread the mixture to at least ½ inch thickness.
Sprinkle some chopped almonds over the barfi.
Once it cools down to room temperature, slice them into desired pieces.
Your mouth drooling badam pista barfi is ready to be served.
Tips to follow
Do not make a fine powder of the badam and pista mixture.
Do not overcook the khoya because the barfi may turn out to be too chewy.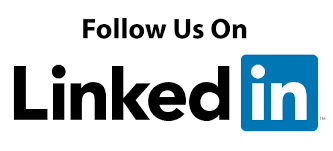 4. Cashew Badam barfi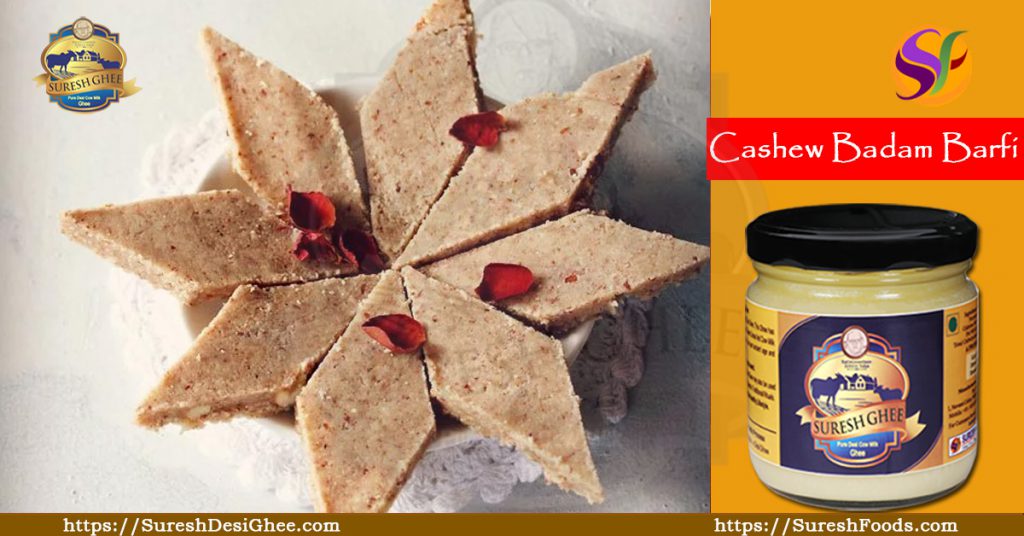 Ingredients
Cashew – ½ cup
Badam – ½ cup
Sugar – ½ cup / 100 gms
Water – ¼ cup
Rose water – 1 tsp
Rose petals – 6
Cardamom powder – ¼ tsp
Directions
Heat a pan and add badam to it and roast them for a minute on a low flame. Keep stirring the badam at times.
Then add cashews in the pan and roast both of them for another 2 minutes on a low flame.
Turn off the flame and let them cool down.
Once badam and cashews have cooled down, add the rose petals and blend them together. Make it into a fine mixture and see to that it is dry.
Take a pan, pour water and add sugar to make a sugar syrup.
Add rose water and cardamom powder to the solution.
Keep stirring the syrup continuously until the sugar dissolves.
Once the sugar gets dissolved well in water, add cashew-badam powder and begin to mix them together under low flame.
Keep stirring the mixture continuously. Incase of lumps, break them.
Once the mixture starts coming together and clings to itself, turn off the flame.
Pour the mixture onto the tray.
Let it cool down for a while, i.e, you should be able to knead the mixture with your bare hands.
Rub your palms with desi ghee and knead the mixture lightly.
Grease a tray with desi ghee and flatten the mixture on it.
Gently roll the mixture to about 5mm thickness and let it cool down completely.
Slice them into desired shapes and sizes.
Your yummy cashew badam barfi is ready to be served.
Tips to follow
Do not allow the badam and cashew to turn brown while toasting them on a pan.
Rose petals and rose water can be avoided if you do not prefer it.
Do not grind the badam and cashew way too much because the dry fruits will release oil in this process.
You need not have to get one or two string consistency while making the sugar syrup. Just see to that, the sugar dissolves well in the water.
While mixing the dry fruits powder with sugar syrup, don't allow lumps to be formed.
Do not scrape the edges of the pan once you are done mixing the mixture well.
After mixing them well, the mixture should be too soft. Take a small piece of the mixture and try making a small ball shaped laddu. If the laddu is soft and not being sticky to your fingers or hand, you have got the right consistency of the mixture.
Do not let the mixture to cool down completely before you knead.
Roll the mixture evenly and see to that, the mixture does not break out in the edges.
If you are not fasting, you can also try out Dry fruits modak. Check out our blog – 10 Delicious Modak Recipes For Ganesh Chaturthi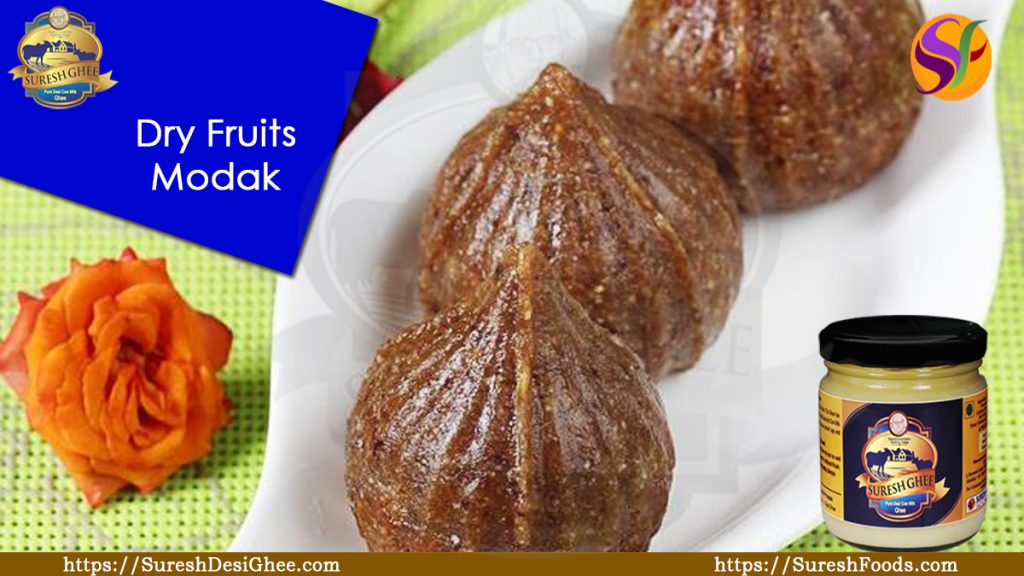 Add these rich and flavoursome dishes in your fasting list and relish these delights with your family. Dry fruits are a great option to be included in your fasting recipes. Try out these healthy and delicious dry fruit recipes and let us know about it. Check out our blog Suresh Foods blog for more recipes. You can get a huge variety of recipes which are not just easy to prepare, but healthy as well.
You can prepare homemade ghee or buy pure organic ghee at our online store. Visit our website https://sureshfoods.com to know more.