Navratri is the nine-day-long festival celebrated by devotees of goddess Durga and it is one of the popular Indian festivals. Although passionate lovers or who worshiped to the shakti sect (Shaktism). Navratri festival comes once a year, which is celebrated in the Ashwin month (September/October as per the calendar) is the most popular festival. Fasting (Navratri Vrat) is an incredible part of the festivities. But why do devotees go for fast? Is it religious tradition, or are there more benefits to it?
The same festival is celebrated in different places with different names, the residue is the same, to check the seasonal conversion. According to mythology, the ninth day is memorialized as the day when Lord Rama goes down to the mortal globe. Shakti is acknowledged as all the Navratri days but the ninth day is devoted to Lord Rama and Hanuman.
The ninth day is called Ram Navmi. This festival is significantly vital for the Vaishnavism custom of Hinduism. As we all are happy for this festival to celebrate with much vehemence and enthusiasm, significantly in Ayodhya, with mass convocations called Ram Navmi Mela and admirers taking a sacred dive in the Saryu River.
However, one can very well go through the traditions and the fasting within the safe limits of their homes since fidelity has a wide thought. Additionally, we have followed the benefits of planning our diet and clicking a reset button in our lifestyle change since fasting is an important part of this festival. Spirituality, peace, and power are symbolized by Navratri. Read down to know the concept of fasting during Navratri.

Read More: WHY DOES DESI COW GHEE IS THE MOST NUTRITIOUS CHOICE
Navratri Fasting
In India, fasting nature changes from community to community. It is always good to evaluate your family before trying the food lists.
Below information will find both North Indian and South Indian foods allowed. Also check towards is a list of flours and cereals intake during the fasting season.
Most of the fasting stages and directions are very tasty and quick to make. As spices and herbs are avoided in fasting food. Moreover, you don't have to waste your time by chopping veggies and chopping onions, garlic, etc.
A fasting time induces you to spiritual cleansing of your body-mind and gets linked to your inner peace and dedicated to the Mother Goddess.
Fasting food to include for Navratri Vrat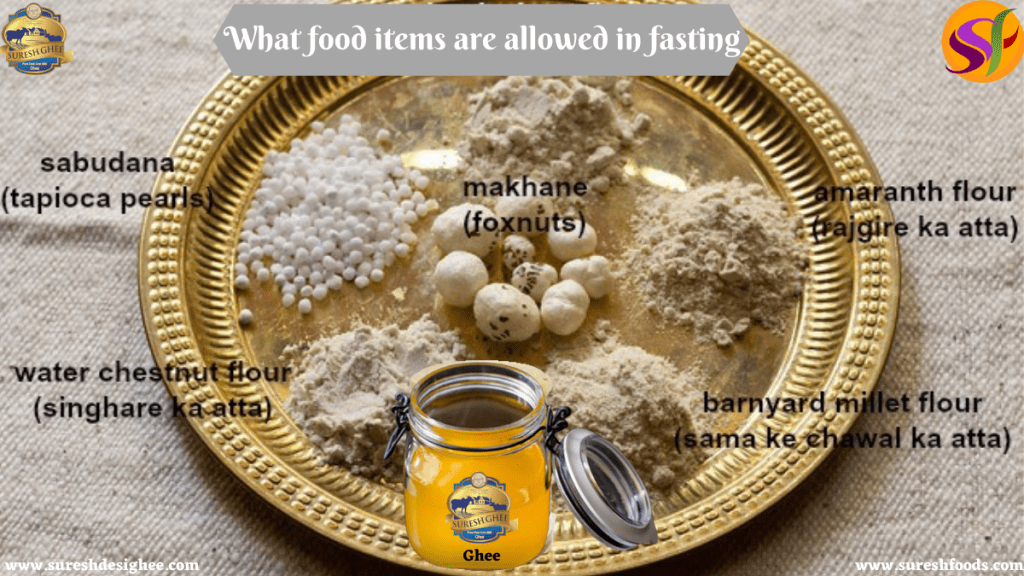 Singhare ka atta (water chestnut flour) – You can use this Singhare ki poori, paratha, pakoras, halwa with the help of this flour.
Rajgira ka atta – Roasted Rajgira can be helpful to infuse with fruits, porridge, and try ladoo from it.
Sama ke chawal ka atta (barnyard millet flour) – You can make Vrat like uttapam, Idli, dosa.
Vrat chawal (barnyard millet) – You can try to make Pulao, Khichdi, Dalia, Idli.
Arrowroot flour – This flour acts as a thickener and binding agent for recipes.
Desi cow ghee – Pure desi cow ghee is an efficient choice for our health. It includes lots of healthy fats. But for cooking it is a very good choice over butter and other refined oil due to its high smoke point. Especially if you want to try recipes for fasting. Desi ghee will offer you more energy and fulfill the hunger pangs.
I recommend having a spoon of ghee in my daily diet. However, a healthy human can have three spoons a day, without worrying about any side effects. Pure ghee is an ample source of vitamin A and E. It is helpful as food as well as medicine for various disorders. It is also spiritualized in the worship of gods and goddesses. If you want to buy it then do visit our online store: https://sureshdesighee.com/ or click it for more details and flavors.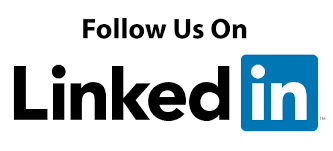 Read More: Ayurveda and the Golden Goodness of Ghee
Fastings: A reset button in the lifestyle with immense health benefits
Navratri offers you different types of fastings which the people can select as per their lifestyle and health scenarios: fasting until noon, having a meal only once a day, fasting till midnight, and fasting for nine days.
Single meal fasting can involve fruits and juices. While a full meal contains potatoes cooked for a whole day fast.
Fasting rituals on festivals entails a lot of benefits ranging from spiritual gains in terms of calming the mind to health benefits. Here are they:
1. Mental peace and spiritual power: Fasting promotes a certain stop to the anxiety, stress possesses in our body and takes us closer to our subconscious state, and the result enhances peace of mind. The body and the mind create a deeper focus.
2. Meditation: Body cleanse regulates mind calmness and more pleasant which helps the brain to focus and meditation will improve your concentration power.
3. Get detoxified, and boost immunity: Ayurveda suggests that fasting enhances the digestive fire which burns the wastes in our body and removes toxins. As a result, it will diminish the boredness of the mind and sluggishness of the body. Our digestive system de-stresses and enhances our immunity.
4. Heart and blood pressure: It has also been found to stimulate cardiovascular function and stabilize blood pressure levels. However, those with such health scenarios must be seen in fasting only under the supervision of the doctor.
5. Flushing out the toxins: Consumption of lots of fluids such as organic tea and coconut water assist to cleanse out wastes from the body and support the electrolyte balance.
6. Constipation and dehydration: The kind of food like desi cow ghee one intake and smear on foods during fasting useful to prohibit the constipation issue and maintain hydration level.
Conclusion:
Above we discussed healthy food for fasting. I have also suggested the recipe names. Here is the one thing that will help to make all fasting dishes delicious is Desi Cow Ghee made by natural bilona process. Desi Cow A2 ghee is very nutritious for our health but it should be pure cow's ghee. Ghee is the ingredient that not only induces flavor in fasting food but also stimulates our food diet. Along with the devotion for maa Durga, divines energy that constitutes our life force. Fasting in Navratri is very auspicious, so fast in the right way with the help of this article, and enjoy the festival.