Cooking is all about creativity!All do not follow same criteria while cooking. They have different tastes and way of preparation. Some people find cooking to be interesting and fun. Whereas, others find it as a boring requirement.
Ghee is a versatile cooking medium. Ghee has a much nutty and rich flavour. It enhances the taste and aroma of the food in which it is added. Besides, the taste and flavour of ghee it also has various health benefits as well. It is one such food supplement that is used as a cooking medium and as an Ayurvedic medicine from thousands of years. If you want prepare simple and tasty dishes using ghee. You are on the right page. You can buy pure desi ghee at our online store. Visit our website https://sureshfoods.com/ to know more.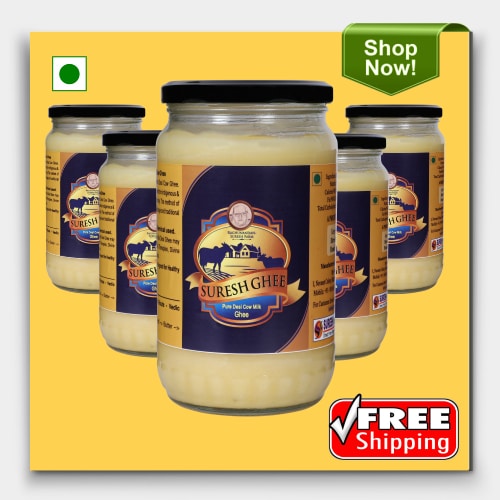 Buy cow Ghee Online : Order Now. Free Shipping

Read our blog – Homemade ghee (long term butter storage)
Let's get started!!
#Ghee Coffee: A Unique Twist to Your Morning Brew
Ever given a thought to adding ghee to your coffee? The saying might sound unconventional, but it's attracting more popularity, specifically with the impact of the prevailing bulletproof coffee recipe— a trending blend of coffee, butter, and coconut oil. Indians have contributed their twist to such prevailing trends by implementing ghee into their coffee, leading to a widely encouraged practice. Such distinct creation not only conveys a rich creaminess to your cup but also reduces the acidity of the coffee while providing a host of nutrients for complete wellness. Here's an easy recipe for making a ghee coffee:
Ingredients:
1 teaspoon of ghee
1 teaspoon of jaggery powder (or any sweetener of your preference)
1 cup freshly brewed coffee
Milk or creamer (according to your preference)
Instructions:
Initiate by warming up brewed coffee at a low temperature; you can also utilize cold brew concentrate.
As the coffee begins to simmer, pour some ghee and let it simmer for another 1-2 minutes or two. Take it out from the heat and stir well to emulsify the ghee added in the coffee. Although blending in a blender is also a choice, it's suggested to let it cool simply before doing so.
Add some milk and jaggery to the mixture once off the stove. Feel free to utilize any creamer or sweetener of your choice; you can also opt for jaggery powder for its health benefits. Your freshly made ghee coffee is ready to be poured into your favorite mug!
Ghee rice brings an essence of richness and amazing flavour. You can serve ghee rice with sides of spicy vegetable or non-veg curries. Spices are one one of those key ingredients in the food which can enhance the taste of the meal. The aromatic spices are roasted in desi ghee which enhances the flavour of the spices. The rice absorbs the flavours and tastes yummy, end of all!! To sum up the recipe –

Ingredients
2 Cups – Basmati Rice
2 – 3 Tbsp desi Ghee
½ Tsp cumin
1 Tsp fennel (optional)
4 – 5 green cardamom
4- 6 cloves
2 Inch cinnamon Stick
1 – 2 bay leaf
2 Inch fresh ginger
4 – 6 cloves garlic
½ cup Onions (Sliced thin)
1 Tsp black pepper (Optional)
3 ¾ cups warm water
½ Tsp salt To taste
2 Tbsp raisins (optional)
2 Tbsp cashew nuts (optional)
¼ cups Onion sliced
Directions
Wash and soak the rice in water for 30 minutes and drain the water off later.
Make thin slices of onions; crush or thinly slice the ginger and garlic.
Heat a thick bottomed pan or pressure cooker and add 2 tbsp desi ghee to it. Take a pan, pour ghee and then add the cashew nuts and fry till brown. Add the raisins and stir fry till puffed up. Drain and reserve. Add the thinly sliced onions for garnish and fry till golden brown. Drain and reserve as well.
Add 1 more tbsp of desi ghee to the pan. Add the whole spices and saute till their aroma fills in the air. Add sliced onions, ginger and garlic. Saute till the onions become translucent. Add the drained rice and fry for few minutes till the grains begins to look dry. Add warm water and salt for taste. Cook it till it is done.
Serve ghee rice by sprinkling the fried garnishes on top. And your ghee rice is ready to eat!

#ghee jaggery cookies

Ghee jaggery cookies are a hand made cookies with a unique taste of ghee and jaggery. These cookies are soft in texture with an amazing taste as it's rare that you see ghee, jaggery and fennel being used for preparing cookies.

Ingredients

¾ cup jaggery
½ cup water
2 cups whole wheat flour
3 tsp desi ghee
½ cup shredded dry coconut
1 tsp fennel seeds
1 tsp cardamom powder, optional
about ½ cup hot water
Directions

In a small pan over low flame, heat water and jaggery together until it melts. Then remove from heat and set it aside to cool down.
In a large mixing bowl, mix flour, coconut and fennel seeds. Add desi ghee in the dry ingredients bowl and mix it with hand until it forms a crumbly mixture.
Gently pour in jaggery into the large mixing bowl and use your hand to knead the cookie mix into a pliable dough.
Take about 1 tablespoon of dough and flatten it out. You can use a fork to gently press and make a criss-cross pattern and press down with a fork to make pattern.
Deep fry the dough in desi ghee until it turns to be golden yellow. You can also bake them in 375 F for about 10 minutes. And you can serve tasty cookies this summer!
This is basically an Indian and Pakistani sweet dish which is loved by everyone. If you have tasted carrot halwa in an Indian cuisine, you will be pleasantly surprised with its amazing taste and fresh flavour.

Ingredients

2 tbsp desi ghee
4 cardamom pods (cracked)
2 cups carrots (shredded)
1 cup whole milk
2 tsp honey or sugar according to your taste
Almonds or cashews for garnish
Directions

Warm the ghee and cardamom pods over medium heat until it melts.
Add carrots and cook gently. Stir it until they soften
Add milk and cook. If you are adding sugar, add sugar and stir until the mixture is moist but not soupy.
Stir in honey if you are not using sugar and remove from heat.
Use chopped almonds or cashews roasted in desi ghee and garnish well.
#kesar rice sweet
Kesar rice sweet is a sweet dish which mainly contains basmati rice. For all who love to eat eat Indian sweet dishes occasionally, this can be a great dish. You can also refer this video before you try.
Ingredients
Basmati rice – ⅔ cup
Desi ghee – 4 tsp
Sugar – ⅓ cup
Kova – ⅔ cup
Meva – ½ cup
Elaichi – ¼ tsp
Kesar – ¼ tsp
Milk – 2 cup
Water – 1 ½ cup
Directions
Wash and soak the rice for 30 mins and drain off the water later.
Boil the rice and keep it aside once cooked.
Soak kesar in the milk and keep it for sometime.
Take a pan, pour desi ghee add elaichi powder and stir well for 10-15 seconds.
Now add meva to it and mix it well on a low flame.
Mix rice, kesar milk, sugar and mix well.
Let it cook for about 5-7 minutes on a low flame.
Lastly add kova to the dish and give it a nice mix. And here your kesar rice sweet is ready to serve. This festive season try this new sweet at home, rather than the usual ones!
You can also try out these amazing recipes as well. Check out these videos to know more –
Balusha is an Indian sweet made by using maida, desi ghee, curd and sugar.

Rajasthani Baati Churma Recipe is one of the most popular dish of Rajasthani cuisine. This dish is an esteemed part of every Rajasthani household.

You might be wondering – what can I do with the ghee left over?
Milk cake is the cake made by using the ghee left over. If you prepare homemade ghee this recipe will be useful for you.

Read our blog – Paleo diet and Desi cow ghee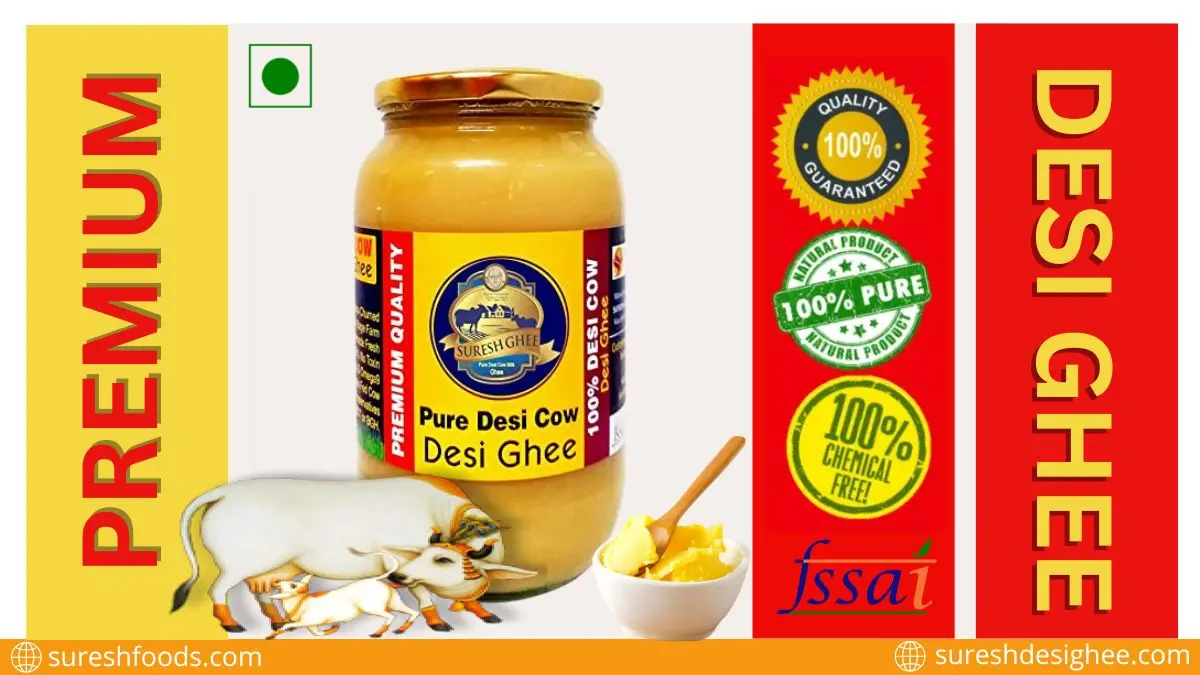 Buy cow Ghee Online : Order Now. Free Shipping

Try your hand over these ghee recipes which will leave you lip smacking and finger licking good! Using ghee in your diet can be very beneficial to your health. Just remember that you do not exceed the calories limit. If you are wondering which is the best organic ghee you can buy? Here we are there to provide you with organic ghee which is available directly from our farms. Visit our website https://sureshfoods.com/ to know more.