Are you aware of the latest hair trend? Everyone is trying desi ghee for hair massage. Massages are good for both your scalp and hair both. It stimulates the health of hair follicles. Healthy hair follicles provide a favourable environment for the hair to grow.
Desi Ghee prevents hair fall and also promotes more strength in your hair. It helps in improving the blood circulation of the scalp and prevents hair fall. There are many hair oils that are already available in the market that can be used for better hair health.
But incorporating Desi Cow Ghee into your daily hair care routine shall get you thick, soft and shiny locks, thanks to its moisturizing quality. Desi Cow Ghee (clarified butter) has been used in Ayurveda for centuries.
It is a simple natural one of the traditional ways of hair-care therapy. Desi Ghee is a natural conditioner for hair growth. Cow Ghee for hair owes to its essential fatty acid content and more vitamin and minerals and massaging with it will improve blood circulation. Shiro Abhyanga is one of the Ayurvedic medicational therapy which used for Ghee head massage.
The Ghee contains many vitamins like vitamins A, D, and E that fight hair loss, support sebum production and protect your locks from oxidative stress and any hair fall. So, consuming ghee regularly will provide you with many ways for healthy hair growth.
It prevents hair fall and also provides more strength to your hair. It improves the blood circulation of the scalp and prevents hair. There are many hair oils available that can be used for better hair health.
Similarly, ghee is a recent natural oil that everyone is trying for healthy hair and scalp. Desi ghee is loaded with many health benefits. Adding it to your diet will also offer you multiple health benefits. If you are also struggling with hair problems and want a healthy solution then try desi ghee.
Read More : Use Ghee As Energy Booster
Ghee is a type of clarified butter and its usage is not limited to cooking. It has many external usages too. Ghee is an ayurvedic medicine for illnesses. At the same time, desi ghee is a great remedy for many skin and hair problems.
Pure desi cow ghee is an excellent moisturizer for dry skin, it removes dryness and dullness and makes skin bright and glowing. Ghee is also a powerful antioxidant that fights free radicals and promotes cell growth. Ghee is also very beneficial for hair. Ghee removes frizziness and makes hair shiny.

For Hairs, Ghee is used as a natural conditioner, as it is a great source of antioxidants and Omega3 Fatty acids, it works as a natural conditioner for dry and frizzy hairs.
If you use a sufficient amount of ghee and apply this evenly on the split ends, it helps to treat split ends. It prevents dandruff, treats scalp infections, also prevents premature greying, prevents hair fall and increases hair growth.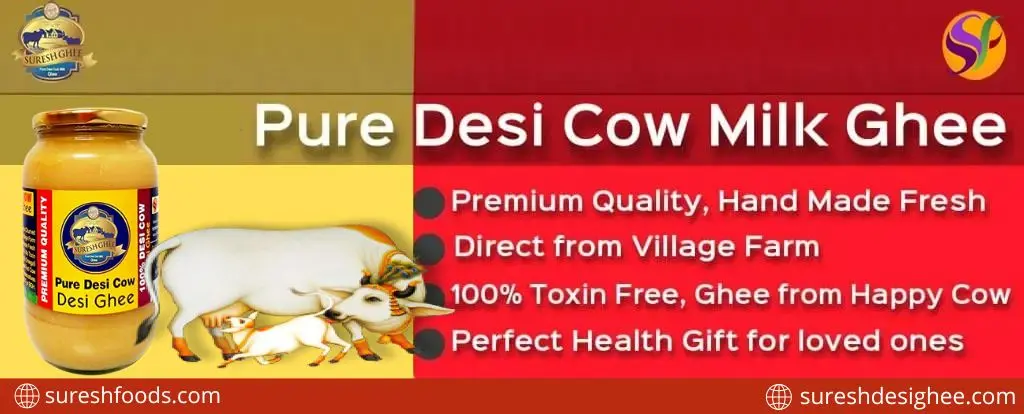 Buy cow Ghee Online: Order Now. Free Shipping
Plain clarified butter or desi ghee, used in Ayurveda for centuries, is a simple natural alternative hair-care therapy. A natural conditioner owing to its essential fatty acid content can improve circulation to the scalp through simple massages. Ghee works as a deeply nourishing treatment for hair. Let us check the Ghee benefits for hair health:-
Use Ghee as a natural conditioner: Desi ghee is a great source of antioxidants and Omega 3ftaty acids; therefore it acts as an excellent natural conditioner for dry and frizzy hairs.
To get that frizz-free and manageable hair you can mix a spoonful of Ghee with a little olive oil and massage on your hair and scalp, then rinse after 20 mins with warm water.
This treatment will get you silky and shiny hair. As a natural conditioner, Ghee hydrate the hair root and improve hair's strengths as well.
Use Ghee to treat split ends: To cure your split-ends, heat a sufficient amount of ghee and apply this evenly on the split ends. Comb after 15 minutes and then rinse off with mild shampoo and lukewarm water. This treatment makes the tip of hair healthy and cures split ends.
Get Silky – Shiny hairs with Ghee: Wash your hair and apply ghee directly on the hair on your washed hairs, wait for 20 minutes and rinse off with lemon water, this will give a natural shine to your hairs.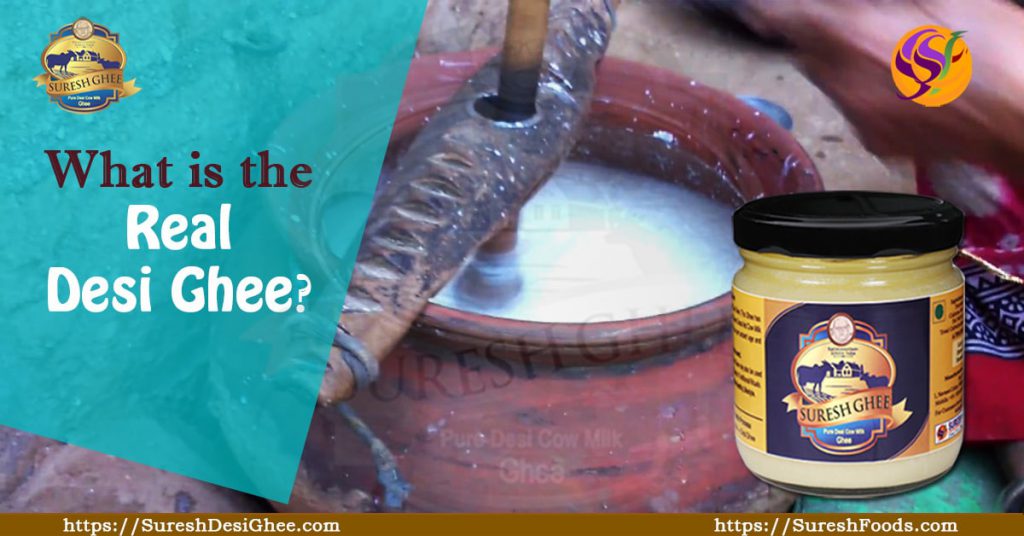 Prevent Dandruff with Ghee : The vitamins and minerals of ghee help to get rid of dandruff and itchy scalp. Mix ghee with lemon juice. Apply on the scalp and massage for some time.
Prevent Premature Greying : Applying hot ghee on hair like hair oil and wrapping the hair in a towel for 15 minutes, later rinse off with mild shampoo, will not only treat premature greying it also prevents premature greying.
Prevent Hair Fall and increase Hair Growth : Most people lose their hair at age of '30s because of hormones change, although people experience hair fall because of inadequate nutrition, lack of vitamin B6, stress, anxiety, depression, sudden shock, and heredity. To prevent hair loss due to any of these reasons, we can use Ghee with almonds.
Read More : Live A Healthy Life With Desi Cow Ghee
Provides hydration to the hair : For healthy hair, extreme moisture is needed. Dry and dull hair makes your hair damaged by splits, frizz, and produce dandruff. Ghee properties are helpful for good hair and it promotes healthy follicles.
Massaging by ghee will support scalp health and provide the right moisturization to hair. Massaging will help to prevent splitting hair, as it helps to reach the ghee at the end of the hair.
Improves texture of the hair : For improving the quality and texture of hair apply ghee to the hair. It will fight damage and give shine to hair. You will also experience smooth hair. You can massage the melted ghee on your scalp for smooth and shiny hair. Massaging ghee will help to promote blood circulation, as ghee is loaded with vitamin A and E so it will improve the texture of hair.
Control frizz : Frizzy hair is one of the common problems among hair damaging processes. As ghee promotes the improvisation in hair it helps in fighting frizz. Apply melted ghee to avoid frizzing hair.
Dr Shiren Furtado said that "Use of ghee as a pre-poo to the length of the hair for moisturizing". Especially when people have curly hair, using one tablespoon of ghee with the cold-pressed coconut oil, this mixture or hair mask is helpful in hair growth.
For clean hair – helps to retain hydration and reduces frizz. By using Sulfate-free shampoo and conditioner will help to remove the hair mask. If you do this procedure once a week. It can maintain the vitality of hair.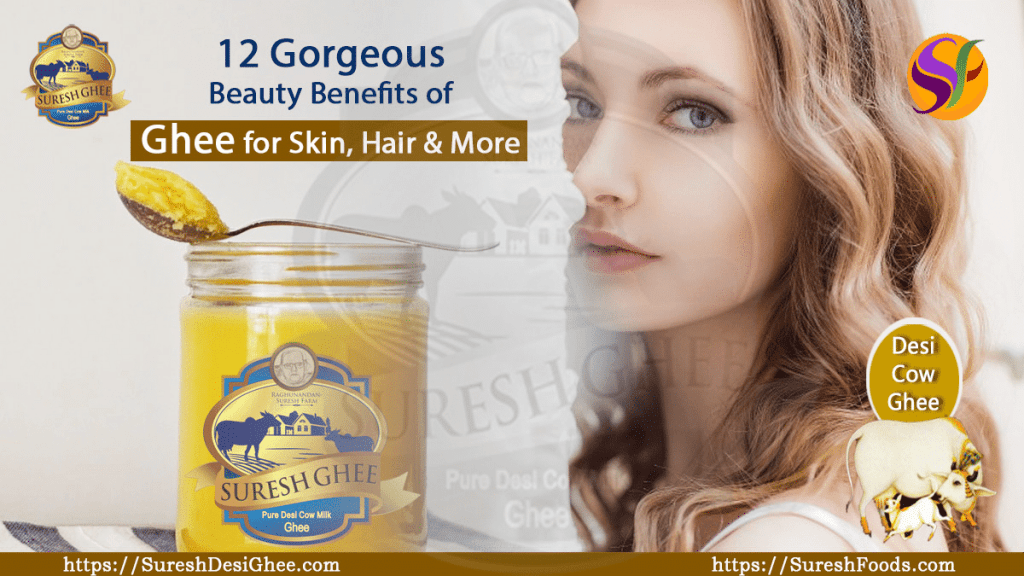 12 gorgeous beauty benefits of ghee for skin, hair and more.
These hair treatments with Ghee will stop hair fall, make them silky healthy, shiny and strong; but all you need to use is Pure Desi Cow Ghee. And repeat the remedies once a week for better results.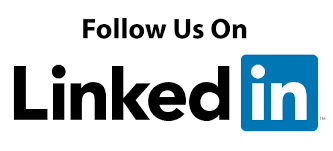 Head Massage with cow ghee is one of the oldest and the most efficient home remedies for hair regrowth. It plays a functional role in hair growth. Ghee removes frizziness and makes hair shiny. It is a great source of antioxidants. Ghee works as a deep nourishing remedy for hair.
Tips for Enhancing Hair Thickness with Ghee
Ghee, well-known for its several advantages for skin and hair, provides several beneficial techniques for promoting thick and healthy hair. Including ghee into your hair care plannings can rejuvenate hair health and take care of the concerns such as bald patches. Analyze the several approaches to increase the quality of your strands.
Ghee and Almonds:
Incorporate cow ghee for its rich consistency of conjugated linolenic acid, carotenoids, vitamins A and E, and omega-3 fatty acids. Warm up a few tablespoons of cow ghee in a pan and add some chopped almonds until they turn brown.Massage the warm combination to your hair, making it work its magic. Rinse off with a gentle shampoo and lukewarm water. Such ghee and almond treatment efficiently prevents hair fall, making your hair look silky, shiny, and resilient.
Ghee and Olive Oil:
Mix olive oil and cow ghee to prevent hair dryness and improve the texture, leveraging their natural conditioning attributes. Combine a teaspoon of olive oil with two teaspoons of ghee and massage it to your hair and scalp for enhanced texture.Consequently, form a mixture of one tablespoon each of olive oil and aloe vera with four teaspoons of ghee. Massage this mixture to your scalp and hair roots, keeping it on for a couple of hours before rinsing it off with a mild shampoo. Such remedy is specifically efficient for addressing frizzy hair and rejuvenating split ends.
Ghee with Coconut Oil:
Improve the blood circulation in your scalp and enhance hair growth with giving a soothing massage. Combine three teaspoons of ghee with one teaspoon of coconut oil and apply it into your scalp to strengthen your strands.
Ghee and Castor Oil:
Leverage the potential of castor oil for improved hair strength by mixing it with ghee and coconut oil. Such mixture not only helps to minimize hair fall but also assures a smoother application, applying across the scalp with ease.
Include these ghee-based medications into your hair care routine to enjoy the advantages of thicker, healthier hair.