The creamy taste of carrot, bold aroma of ghee which adds on the flavour of the halwa and sugar with cardamom powder which enriches the sweetness of carrot halwa, is a perfect delight! It is a classical Indian dessert which is also called as gajar ka halwa. It is originally a Punjabi sweet but loved internationally. Gajar ka Halwa is a delicious and mouth watering sweet made with few ingredients like carrots, milk, sugar and cardamom.

The traditional method of preparing gajar ka halwa is time consuming but you can use another alternative method to prepare carrot halwa. Though you may not have a sweet tooth, you will still end up asking for more gajar ka halwa. If you don't believe me, try out this amazing carrot halwa and serve it hot. Let's get started with the preparation of carrot halwa.

Ingredients

Red carrot – 1 kg
Cardamom – 4-5
Milk – 1 cup
Desi cow ghee – 3 tbsp
Khoya / mawa – 250 gms
Sugar – 2 cups
almonds, cashew, raisins, pistachio (garnish)
Directions
Peel and grate the carrots.
Pressure cook carrot for about 2 whistles.
In a heavy bottomed pan, add the grated carrots, cardamom, milk and cook.
Stir often and cook till all the milk has evaporated and the carrot has turned soft.
Add desi ghee and fry well till it starts leaving the sides of the mixture.
Now add in sugar and give it a good mix.
Finally add the khoya / mawa and stir it until all the lumps have disappeared from the khoya and the carrot halwa has attained your desired consistency.
Roast cashews, raisins and almonds in desi ghee and transfer it to the carrot halwa.
Serve warm or cold garnished with almond slivers.
Khoya
Khoya or mawa is nothing but solidified milk. The milk is evaporates and then thickens to form a solid kind of consistency. You can ask for either Mawa or Khoya. Khoya can also be made at home. All you have to do is boil the milk and stir on simmer until all the water has evaporated from it. Cook the milk until it has thickened and will form a solid shape. You can store this in the freezer for a couple of months or so.

Tips to follow
Do not cook only the carrot without milk as it will change in colour.
Keep stirring the halwa at regular interval of time.
You can also skip khoya, instead you can add more milk to the halwa.
Add ghee later after cooking carrot and milk together. Do not fry carrot with ghee as it might turn a little dark in colour.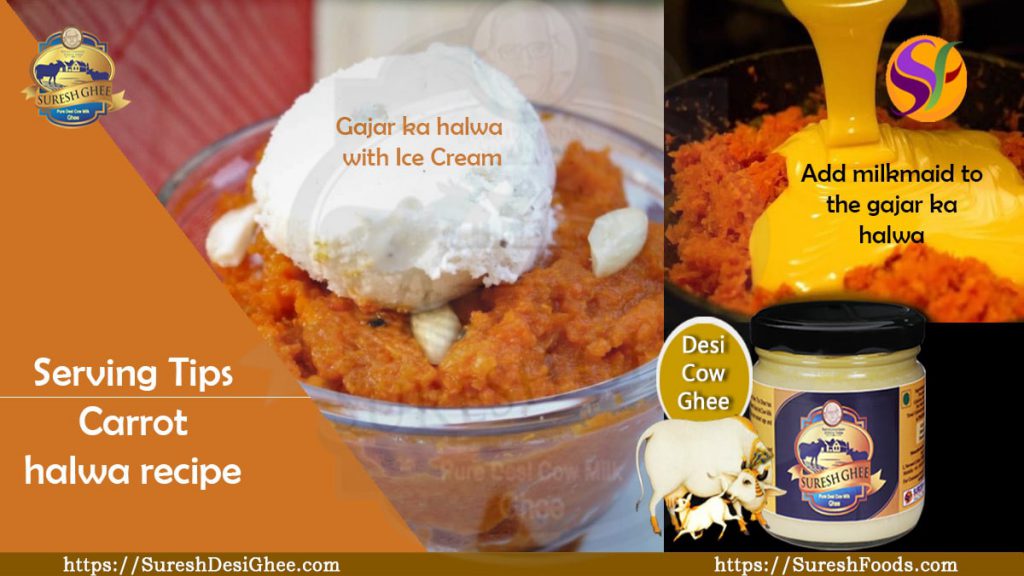 Serving tips
Carrot halwa can be served hot or you can also refrigerate it.
You can also serve carrot halwa with a scoop of vanilla ice-cream which tastes amazing.
You can also add milkmaid to the halwa which also gives a rich and creamy texture to the carrot halwa.
Why carrot halwa is a healthy dessert?

Carrots are loaded with vitamin A, C, K and fibre. The vitamin A in carrots helps us to improve the vision. The beta-carotene protects against muscular degeneration and cataracts. It also acts as an anti-aging property. Carrots are also used to reduce infections. It reduces the bile in the liver and cleanses the body. It also acts as a beauty enhancer and keep the skin healthy.
Adding milk to the halwa adds calcium, Vitamin D and protein to the delicious dessert. It also has CLA and Omega 3s in it which also an essential component to the body. Milk is a versatile element which can be used in any diet easily.
The cashews and raisins adds on to the protein and antioxidant content. Cashews are loaded with Vitamin E and B6. raisins also help in digestion.
Desi cow ghee is loaded with vitamin A, D, E, K. ghee has Vitamin A which forms the chief source basically in the Indian food diet. Vitamin A helps in the proper functioning of the lungs,heart and kidney etc. It also important for normal vision, immune system and reproduction. Ghee has heart healthy saturated fats which also produces Vitamin B12 in the body which does not cause any harmful effect to the heart. Adding ghee to your food will provide Vitamin D, which helps you to maintain healthy and strong bones; it may also help you in overcoming conditions like cancer, type 1 diabetes and multiple sclerosis. Grassfed ghee contains high nutrient Vitamin K2. Consuming calcium makes your bones strong and healthy, but the calcium wont strengthen your bones until it is accomplished with Vitamin K2. So ghee adds on to the benefit of having strong and healthy bones and teeth. It has fat soluble nutrient, Vitamin E which boosts immune system and also promotes anti-aging. Make use of the ghee nutrition by consuming grass fed ghee. It also has properties like detoxifying agent, anti-aging property, beauty enhancer and the best food supplement to maintain essential fats for a healthy functioning of the body.
Read our blog –Ghee- Why is it an important part of your diet?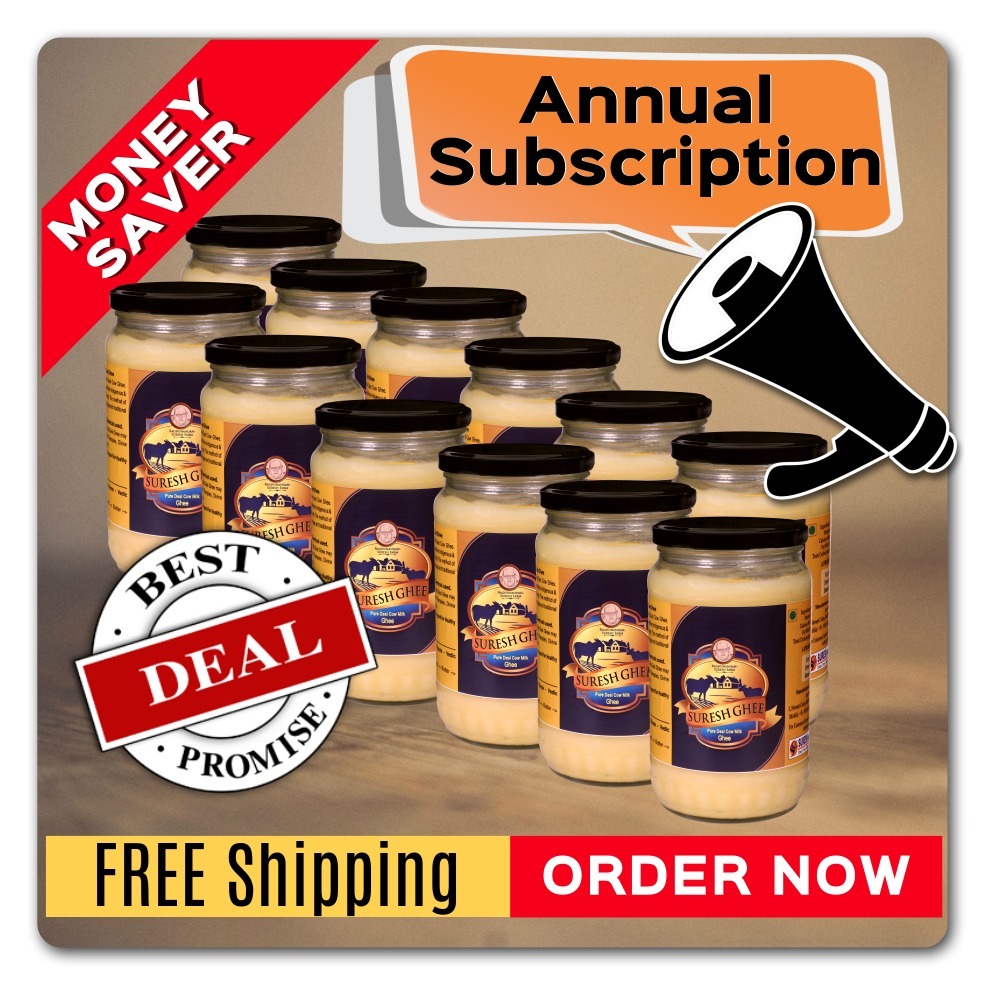 Buy Pure Desi Cow Ghee Online : Order Now. Free Shipping
Besides the calories carrot halwa is prefered much in the days of winter as it gives enough health benefit according to the climatic conditions. Always remember that consuming limited amount of calories will not affect your health.

There are a several different ways by which you can cook the tasty carrot halwa. You can use pressure cooker or the microwave to cut short the process of cooking. The taste of these few ingredients can fill your kitchen with a heaven of aroma and the wait gives you the incredible taste of milk, desi ghee and carrot cooked together. Try out this yummy recipe at home. Serve it cold with a scoop of ice-cream this summer to your child and see smile you can get on your child's face! Do share your valuable feedback with us. And we would love to hear from you.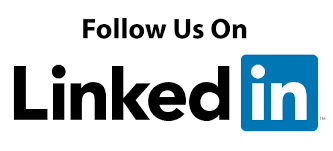 Try out some amazing and instant sweets like Gulab jamun, Rava kesari bath, Mysore pak, Instant jalebi and sweet Pongal using desi cow ghee at home. You can prepare homemade ghee or buy pure organic ghee at our online store. Visit our website https://sureshfoods.com to know more.