Having long, shiny, and lustrous tresses are something everyone wants. Due to various contemporary lifestyle changes, oxidative stress, food habits, increased pollution, and use of chemical-based products most people suffer from various hair and scalp-related ailment such as hair fall, hair thinning, Alopecia or baldness, dandruff, etc even during very young ages.
Desi Cow ghee is one of the power-packed natural ingredients that are easily available and has some awesome benefits as well, it can be easy to store and is easy to use, and it must-have in your skin and daily hair care routine. Ghee is rich in antioxidants such as vitamins A & E, which promote fighting free radical damage. It has fatty acids that nourish the skin from within by deep penetration and make the hair long, healthy & strong.
Ghee is known to have hydration benefits for all skin types. It has essential fatty acids that induce hydration in the skin cells, thus moisturizing dry skin. Ghee is also considered one of the best natural anti-ageing solutions for centuries.
Along with skincare benefits, ghee is a beneficial ingredient in hair care & beauty regimens as well. It conditions frizzy, dry, and rough hair and makes it extraordinarily soft and glossy. A combination of warm ghee and olive oil (or coconut oil), when applied to the scalp, can treat almost any problem related to hair.
Due to its hydrating and nourishing properties, Ayurveda recommends using ghee for skin and hair care. But, unlike other ways, Ayurveda recommends a more special and more particular way to use ghee on the skin.
Statistics say that the hair loss industry is a multi-billion industry now as around 8,11,000 hair sufferers seek professional help in the year 2008. No doubt, it would have increased by quite a few times now.
But have we ever wondered how our parents and grandparents had such beautiful hair only by using natural and common kitchen ingredients? Now we are going to learn about such an ingredient.
Yes! Ghee or clarified butter is one such ingredient that will help your dream of having healthy and shiny hair come true. Using Desi Ghee externally as well as consuming ghee internally will help your overall scalp health as well as help in keeping your hair shiny and free from dandruff.
Ghee is a type of clarified butter, which we obtain from cow milk. Ghee usage is not limited to cooking and eating; it has many external usages too. Ayurveda has described old Ghee as an effective medicine for various illnesses.
Ghee is also found a great remedy for many skin and hair problems. Ghee can be obtained when all the moisture is removed from butter. As a result, this purified or clarified butter becomes very beneficial for hair and skin.
Ghee is an excellent moisturizer for dry skin; it removes dryness and dullness and makes skin bright and glowing. Ghee is also a powerful antioxidant that fights free radicals and promotes cell growth. Ghee is also very beneficial for hair. Ghee removes frizziness and makes hair shiny.

Ghee is an excellent moisturizer for dry skin; it removes dryness and dullness and makes skin bright and glowing. Ghee is also a powerful antioxidant that fights free radicals and promotes cell growth. Ghee is also very beneficial for hair. Ghee removes frizzyness and makes hair shiny.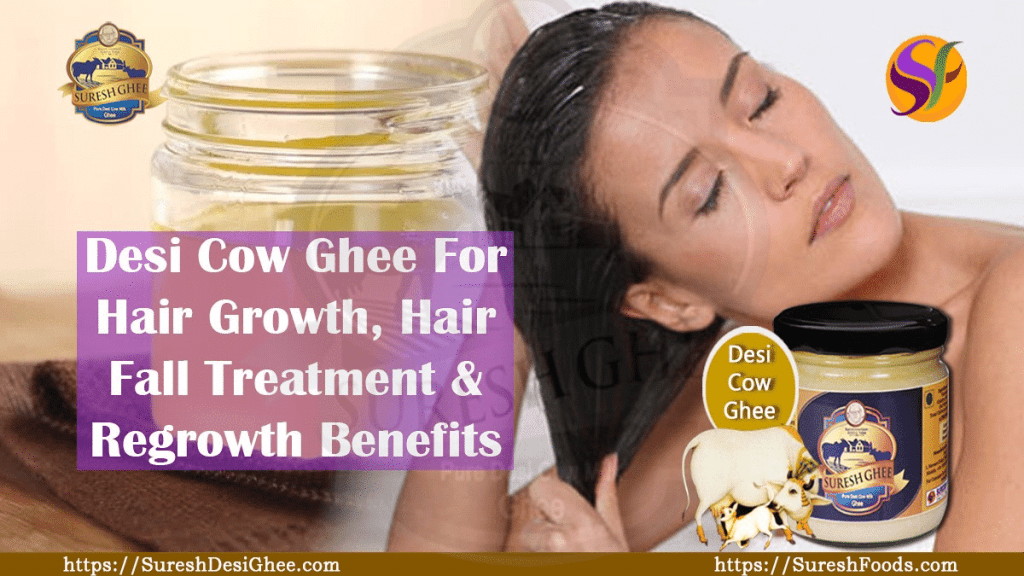 Desi Cow Ghee For Hair Growth, Hair Fall Treatment & Regrowth Benefits
Ghee works as a deep nourishing treatment for hair. Let us check the Ghee benefits for hair health :-
1. Use Ghee as natural conditioner:
Ghee is a great source of antioxidants and Omega 3ftaty acids; therefore it acts as an excellent natural conditioner for dry and frizzy hair. To get those frizz-free and manageable hairs you can mix a spoonful of Ghee with a little olive oil and massage on your hair and scalp, then rinse after 20 mins with warm water.
This treatment will get you silky and shiny hairs. As a natural conditioner, Ghee hydrate the hair root and improve hairs strengths as well.
2. Use Ghee to Treat Split Ends
Because of its antioxidant and fatty acids, Ghee is a great home remedy for treating split ends. Split ends happen when the ends of your hair become dry, brittle, and frayed, exposure to extreme weather conditions, and hair care techniques such as blow-drying, straightening, and curling may cause split ends. They're also caused by chemical hair products.
Ghee hydrates and removes dryness from hair ends. To cure your split ends, heat a sufficient amount of ghee and apply this evenly on the split ends. Comb after 15 minutes and then rinse off with mild shampoo and lukewarm water. Repeat use of this remedy will certainly help you to get rid of the split end problem.
3. Get Silky –Shiny hairs with Ghee
Ghee is not but the butter oil and It is being used as a massage oil in Ayurveda. Use ghee as hair oil to get silky & soft hair. Wash your hair and apply ghee directly on the hair on your washed hairs, wait for 20 minutes and rinse off with lemon water, this will give a natural shine to your hairs.
Dandruff is a form of fungus on your scalp. Anti-allergic and anti-inflammation properties of Desi Cow ghee help to get rid of dandruff and itchy scalp. To help you with the same, For oily scalp – mix ghee with lemon juice.
Apply on the scalp and massage for some time. Rinse off. For dry hair, mix hot ghee and almond oil. Apply this on the scalp and the ends of the hair. After 15 minutes, rinse off with rose water to remove oil from the hair. This is a great natural remedy to prevent dandruff.
5. Use Ghee to treat Scalp Infection
Ghee, being a dairy product, helps to kill the bactria that cause scalp infection. Massage the scalp with hot ghee twice a week to get rid of scalp infections. Ghee increases blood circulation and leaves your scalp feeling cleansed and healthy.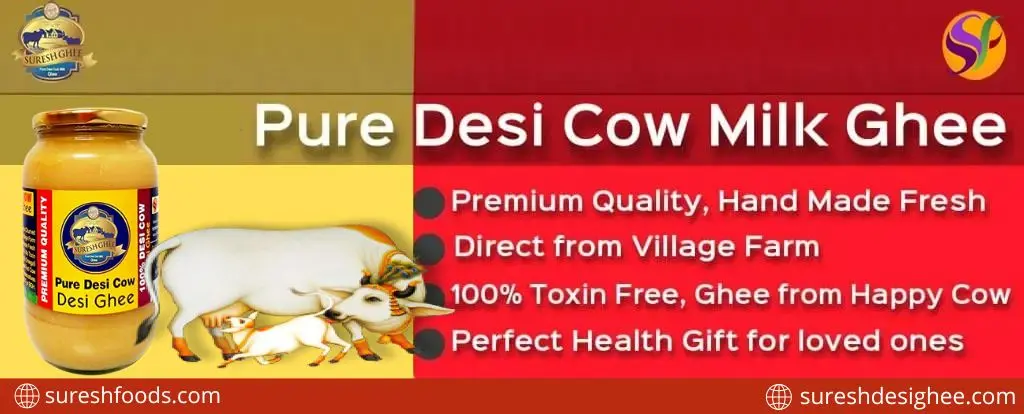 Buy cow Ghee Online: Order Now. Free Shipping
6. Prevent Premature Greying
An infected and unhealthy skin of the scalp develops premature grey hairs, that too in the early stages of human age. Our mothers and grandmothers have been using desi cow ghee as a treatment of premature greying and to get long black hairs.
To get long black hairs apply lukewarm ghee on hair like hair oil and wrap the hair with a steamed towel for 15 minutes. Later rinse off with mild shampoo. This will not only treat premature greying but will also prevent premature greying symptoms.
7. Prevent Hair Fall and increase Hair Growth
Most people lose their hair in their 30's because of hormone changes. Although people experience hair fall because of stress, undernourished hair and deficiencies. Ghee comes in handy to treat hair fall with its high Omega 3 & Omega 9 fatty acids, conjugated linoleic acid, vitamin and mineral content.
Ghee also contains carotenoids and vitamins A and E, these antioxidants fight free radicals and promote skin cell growth which in turn leads to a nourished scalp all of which nourish the scalp & prompt healthy hair growth.
How to: Heat sufficient amounts of cow ghee in a container and add just the right amount (4 almonds cut into pieces) to the bowl. Wait till the almonds turn black and remove the bowl from the flame. Filter out the almonds and apply cow ghee on your hair while still warm.
Wash off using warm water. This hair treatment with Ghee will stop hair fall, make them silky healthy, shiny and strong; but all you need to use is Pure Desi Cow Ghee. And repeat the remedies once a week for better results.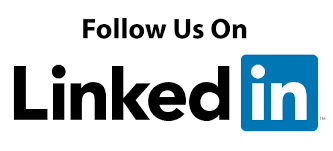 Desi cow ghee is a great source of antioxidants and Omega 3 Fatty acids, it works as a natural conditioner for dry and frizzy hair. People experience hair fall because of inadequate nutrition, lack of vitamin B6, stress, anxiety, depression, anxiety, sudden shock, and heredity. To prevent hair loss due to any of these reasons, you can use desi ghee for hair/scalp massage.
Head Massage with cow ghee is one of the oldest and the most efficient home remedies for hair regrowth. It plays a functional role in hair growth. Ghee removes frizziness and makes hair shiny. It is a great source of antioxidants. Ghee works as a deep nourishing remedy for hair.
Methods for Applying Ghee to Your Scalp
Ghee massage for Scalp Smoothing  : For application of ghee to your hair, initiate by warming it up, same like you would do with coconut oil. Consider taking 2 teaspoons (30 mL) of ghee and gently warming it in a small pan over medium heat for a few minutes till softens for application. Rather, you can also soften it by rubbing it between your palms or heating it in the microwave for a few seconds. Most of the beauty experts advise mixing a few teaspoons (30 mL) of ghee along with 1 teaspoon (15 mL) of olive oil, heating the mixture briefly, and blending the combination for an extra nourishing hair mask.
Apply the Mixture for Moisturization and Detangling : Engage your fingers to smoothly work the softened ghee into the scalp of your hair. Drive your  direct attention towards the tips of your hair, as they are mostly the driest and often easily damaged. Ghee is a significantly rich source of vitamin E, which can support to balance antioxidant levels from the scalp of your hair till tips, promoting healthy hair growth and shielding from hair loss. Such people having oily roots, focus on applying the combination from the mid-lengths to the tips of hair to resist getting ghee on your roots and scalp.
Ghee Massage for Dry Scalp : Such people having dry and flaky scalps should give a thought on applying a minimal quantity of ghee directly onto your scalp to penetrate it with much-required nurture. Massaging the roots of your hair can also improve blood circulation, increasing the growth of thick, healthy hair. Although, if you are vulnerable to oiliness and breakouts, it's suggested to resist direct application of ghee to the roots of your hair.