The minute I hear the word "Gulab Jamun", my mouth starts watering and my brain starts to imagine the soft and sweet jamun with the sugar syrup. How can someone not like it? When it comes to eating the yummy gulab jamun, I stop worrying about calories. This Indian desert will make you crave for more once you start eating.

Gulab jamun is a famous Indian sweet which occupies the first place when it comes to festive sweets or desserts. They melt in the mouth; it has an amazing taste of richness and sweetness. You can see this sweet being made in most of the houses during festivals, marriages and special occasions. Let us get started with the preparation of gulab jamun!

Ingredients
Gulab jamun dough (1 cup = 250 ml)
Khoya /mawa – 200 gms
Maida – 200 gms
Cardamom powder -¼ tsp
Milk – as required
Baking powder -½ tsp
Ghee – as required to fry
Sweet sugar syrup
Sugar – 400 gms
Water – 2.5 cups
Cardamom pods – 4 pods
Lemon juice – ½ tsp
Rose water – 1-2 tsp
Directions
Grate the block of mawa and place it aside.
Knead the mawa and for 1-2 minutes and then add maida, cardamom powder and baking powder. Mix the ingredients well with your fingers.
Add milk gradually (1 tsp at a time) and knead the dough until it gets soft with minimum cracks.
Cover the dough and place it aside for about 15 minutes.
Take another saucepan, add sugar and water. You can also add cardamom pods and let it boil.
Bring it to rolling boil and then add lemon juice and rose water. Mix it well and keep it aside.
Check if the consistency of the syrup is sticky.
Now, grease your palm and make small ball like shapes of the dough.
Once you are done, pour ghee in a vessel and heat it for about 5 minutes under medium flame.
Once the ghee is heated to the right temperature, slip few balls of the dough into the ghee.
Once they rise and begin to float, flip them and let them fry evenly. After they turn golden brown take them off from the vessel on a separate plate. The jamuns will bulge when they are well-fried (usually 8-10 minutes).
Transfer the jamuns into the sugar syrup when the syrup is warm. You can see that the gulab jamuns will increase furthermore in size when dipped in sugar syrup.
Keep them soaked for about 2-3 hours until the sugar syrup gets well absorbed.
And here you have my favourite gulab jamun ready to serve. Sprinkle some broken pieces of pista or almond over the gulab jamuns. You can either heat it a little before you serve or even refrigerate it, according to your preference..
Tips to follow
Do not add too much milk at once to the dough, orelse it will turn out to be very soft and sticky.
In case it happens so, then add more maida accordingly and knead it to adjust the consistency of the dough.
If the dough is having cracks add a little milk or water to the dough.
To check if the ghee is well heated and the consistency of the dough is perfect- take a small piece of dough and put it to the bottom of the vessel. If it stays down for few seconds, sizzles and raises gradually it is the correct temperature. It signifies that the ghee is ready to fry gulab jamuns.
Do not fry the jamun balls under too low flames which may pay way into hardening of it.
Storage of gulab jamuns
You can store gulab jamuns for about 2 days in airtight containers at room temperature. Or you can use it by refrigerating it for about 2 weeks.

Once you start trying gulab jamun at home you may come across a few doubts on the breaking of jamuns or hardening or extra softening. Let me clear your doubts regarding these problems you may face while cooking.

Why gulab jamun breaks while frying?
If the dough has more moisture content, it will lead to breaking of dough on frying. Do not add more baking soda than mentioned as it may also result in breakage of the dough. Add correct measurements of all the ingredients as it effect the whole dough. If the ghee is not heated well the jamun balls will absorb more ghee and break.

Why gulab jamun becomes too soft?
While preparing sugar syrup, see to that the syrup gets to a sticky consistency. If the syrup gets runny the jamun will absorb more syrup and become extra soft. Thus, the gulab jamun breaks while serving itself.

Why gulab jamun becomes hard?
When there is too less moisture in the dough, the gulab jamun tends to become too hard. Even when you fry them under low flame there are chances of the jamuns getting hard.
Serving options
Serve warm gulab jamuns with broken pieces of almonds or pistas.
Take out the gulab jamuns out of the syrup about half an hour before you garnish them and drizzle it with chocolate syrup.
Roll the gulab jamuns in coconut powder.
Make thin slices of gulab jamun and serve with vanilla ice cream. You can also garnish them with broken pieces of almonds or pistas.
Take custard and add gulab jamuns into them. Garnish it with few pieces of almonds, pista or chikki (nut brittle).
Take a glass and put layers of sliced gulab jamun at the bottom, then put whipped cream with gulkand. Repeat these layers and garnish them with broken almonds, pistas or rose petal on the whipped cream. Refrigerate it and have the desert in a much unique way.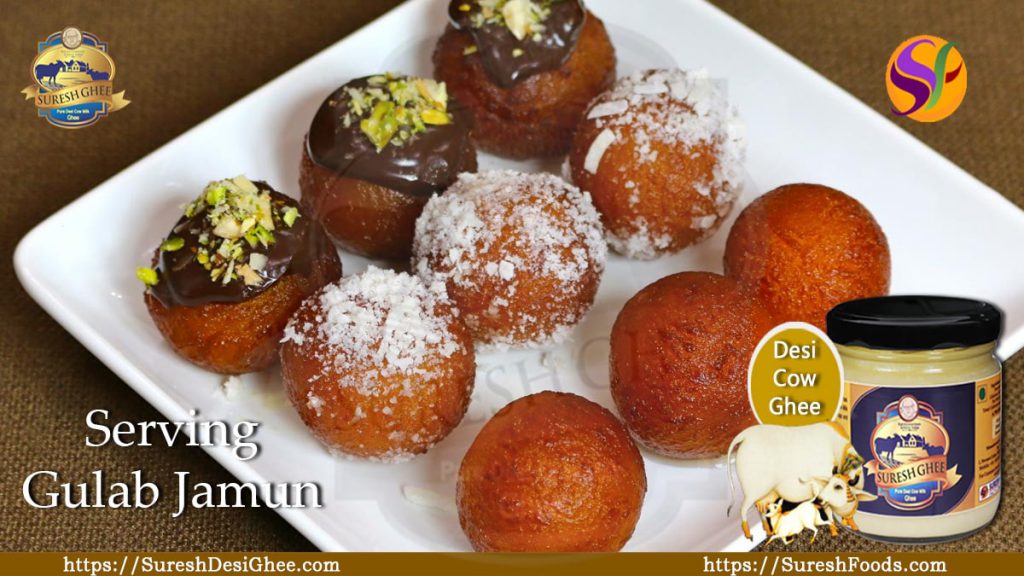 Advantages of Cooking Gulab Jamun with Ghee
Acknowledge ghee as that reliable friend who increases every culinary experience, creating each occasion special. Beyond its noticeable health advantages, ghee conveys a significant and delightful flavor. Dissimilar to common cooking oils that mostly lack taste intentionally, some oils can even deliver a pungent flavor to food, such as mustard or coconut oil. Ghee, although, stands out as a perfect balance, providing an unmistakable yet pleasing taste. The mere concept of a small amount of ghee melting over a freshly steamed bowl of rice is sufficient to make one's mouth water.
Opting for fats wisely is beneficial to resist the risks connected with rancidity, such as heart disease and cancer. Ghee, possessing its longer shelf life, can be kept at room temperature or refrigerated. On the contrary, multiple oils, while initially fine at room temperature, can develop a slightly soured smell over time. Rancid oils not only impact the taste and aroma of food but can also be hazardous to one's health.
The expectation surrounding the health factors of ghee is understandable. In contrast to its often-misinterpreted reputation, all fats can add towards weight gain, and moderation is the main aspect. Although, some fats, when intake in moderation, can be essential. Ghee, besides fulfilling your body's fat requirements, provides several health benefits. It encourages good digestion, improves the immune system, and promotes memory, among other benefits. For those thinking about weight management, ghee consists of Conjugated Linoleic Acid (CLA), which contributes to this endeavor.
Why is desi ghee used to fry gulab jamun instead of oil?
Desi cow ghee was used as a basic cooking many years in every kitchen of India. Ghee was the basic cooking oil which ruled over other cooking oils. But presently, other cooking oils like olive oil, sunflower oil and dalda have become dominant over the ghee. Besides the amazing flavour it adds to the dish or food it is added to and the bold aroma of ghee, it is also an all rounder when it comes to providing health benefits. Ghee is loaded with nutritional values and also the capability to cure various ailments. But, there are various myths about ghee which has got us into this scenario.
Ghee has high smoke point which makes it a good cooking medium. Ghee has healthy fats which helps in building of the cell membrane and strengthening. Ghee has heart healthy vitamin i.e Vitamin B12 which does cause any harm to the heart. The fat soluble vitamins i.e Vitamin A, D, E, K and the presence of butyric acid eases digestion.
Just remember that if you don't increase the calories limit per day you will not suffer with any ailments related to heart or weight gains. Ghee is also an Ayurvedic medicine which is used from thousands of years in India. You can also prepare homemade ghee or buy pure desi ghee from our online store. Visit our website https://sureshfoods.com/ to know more. Suresh Foods is a trusted online store which is not a dairy factory but a farm, and more than that a "Gau Mandir".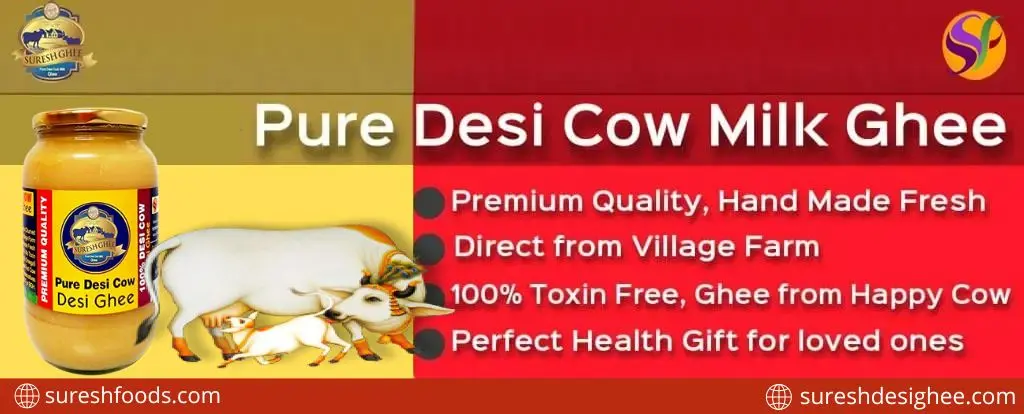 Buy cow Ghee Online : Order Now. Free Shipping

Let us come back to our All time favourite gulab jamun, now. If you are craving to have some desert tonight or prepare sweet for the upcoming festival, then try this amazing gulab jamun at home. We would love to hear your feedback.