Feeling like having something sweet today, but without fretting much. The solution to it is the mouth melting rava kesari filled with dry fruits and the aroma of ghee which tempts the taste buds. A perfect delight after breakfast or meal. It's also called as rava sheera(Maharashtra), suji halwa(North India), sajjige or kesari bath(Karnataka). It is commonly served as naivedyam to gods during pooja, special occasions and festivals in India. The origin of rava kesari or the kesari bath is in South India.

Rava kesari is prepared by using just few simple ingredients like semolina, sugar and ghee. Originally the rava kesari was made with semolina, but now they even use the whole wheat rava. There is a quite difference in the taste of the rava kesari depending upon the rava chosen for its preparation. Let's get started with the preparation of rava kesari!

Ingredients
Semolina – 1 cup
Sugar – 1 cup
Water – 2 ½ cups
Cardamom powder – ¼ tsp
Kesar – 2-3 strands or food colour – a pinch
Desi cow ghee – 5 tbsp
Cashews – 10
Raisins – 10
Directions
Heat 2 tbsp desi ghee in a pan and fry the cashews and raisins in it. Transfer them to a plate and keep it aside.
In the same ghee add rava and roast the rava until it turns golden brown. Do it on a low flame and do not let the rava get over fried or burnt.
While the rava is getting roasted, take another saucepan and keep the water to boil.
Once the water starts to boil add the water slowly to the rava and continue stirring. See to that you don't allow lumps to be formed in this stage.
When the water level is reduced, cover the pan and let it cook for about 2 minutes on a low flame.
Add sugar and give it a good mix so that the sugar gets dissolved well.
When the moisture is evaporated add cardamom powder, kesar stands dipped in milk or food colour.
Then lastly add 2 \3 tbsp of desi ghee to it and mix it for one last time.
Transfer the rava kesari into a bowl and it is ready to serve.
Tips to follow
Use desi ghee instead of vegetable oil as adding of ghee enhances the flavour of rava kesari. It also gives an amazing aroma to the sweet when mixed with dry fruits. If you reduce the amount of ghee the rava kesari will turn to be sticky and not thick running.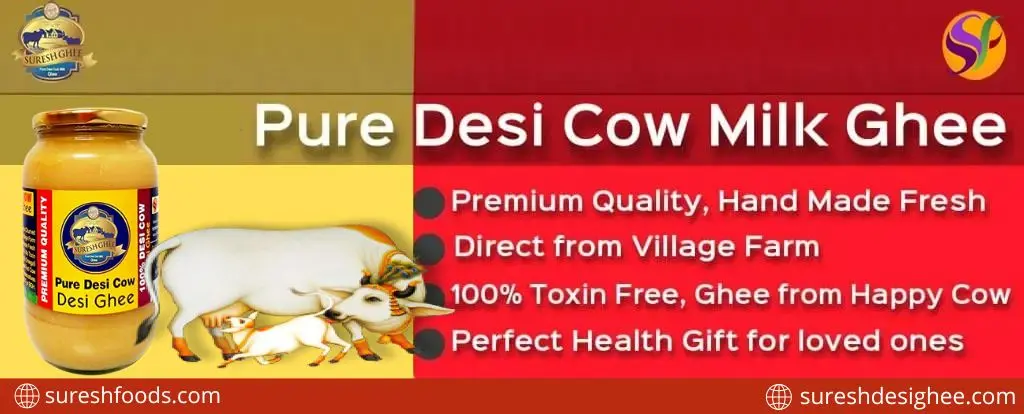 Buy Pure Desi Cow Ghee Online : Order Now. Free Shipping

Roast the rava properly, roast it at least for about 4-5 minutes or else your rava kesari will not be a delight to you.
Prepare rava kesari on low flame and do not let lumps to be formed during the preparation.
If you are confused about the quantity of water then you can keep the measurement of 3 cups of water for 1 cup of rava.
Once the rava starts leaving the sides of the pan add ghee and remove it off from the flame. Do not stir it for longer period of time or else it will turn to be too hard.
Do not worry if your kesari turns hard after sometime of your preparation. It is normal that the rava kesari turns hard after sometime.
Serving hot kesari bath or rava kesari is the best serving idea.
Read our blog – Paleo diet and Desi cow ghee

Addings to rava kesari
You can also add mango pulp while preparing rava kesari. Pour the mango pulp after you add sugar to the rava. It gives a taste of mango.
You can also add pineapple puree to the rava kesari if you like having an essence of pineapple in it.
You can use milk instead of water to prepare milk rava kesari. It enhances the taste as the rava gets cooked in the milk.
You can add banana puree to the rava kesari.
You can also add mixed fruits to the rava kesari. It gives a delicious taste of mixed fruits mixed in rava kesari.

Serving tips
Rava kesari is served warm as a dessert with khara bath i.e upma and coconut chutney or curd. Thus, this combo is known as Chow chow bath in the South.
Khara bath or upma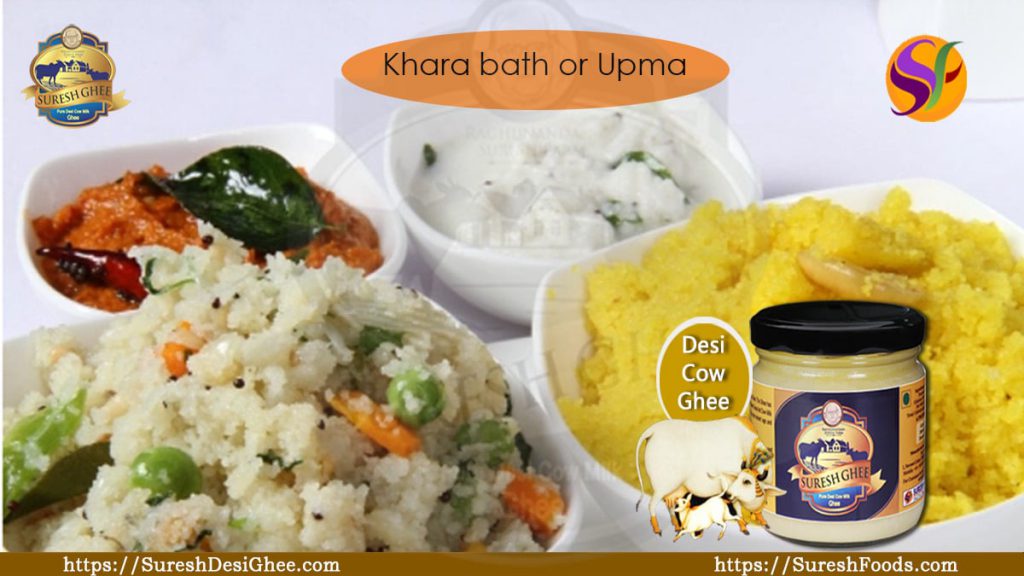 Ingredients
bombay rava / semolina -½ cup
Water – 1 cup
Oil/ desi ghee- 5 tsp
Mustard seeds – ½ tsp
Cumin seeds – ½ tsp
Chana dal- ½ tsp
Urad dal – ½ tsp
few curry leaves
Cashews – 10
Onion – ½ (finely chopped)
green chilli – 2
Ginger – ½ inch (finely chopped)
Tomato – 1
Beans – ½ cup
Peas – ¼ cup
Turmeric powder- ¼ tsp
Salt
Desi ghee – 1 tbsp
Coriander leaves
Directions
Take a large kadai, add 5 tsp of oil or desi ghee to it. You can also buy desi cow ghee at our online store. Visit our website https://sureshfoods.com to know more.
Add the tempering ingredients like mustard seeds, cumin, chana dal, urad dal and few curry leaves and allow them to splutter.
You can also add cashews and fry till they turn slightly golden.
Add finely chopped onions and saute till they get golden brown.
Add slit green chilli and finely chopped ginger to it. Saute until the raw smell is gone.
Add chopped tomatoes, beans, peas and fry them as well.
Now add water and get to rolling boil.
Once the water begins to boil, add turmeric powder, salt to taste and mix it well.
Lower the flame and add the rava slowly, keep stirring continuously to avoid lumps in this stage.
Cover the khadai with a plate and allow to steam up for a minute on the low flame.
Add a tsp of ghee and give it a one last mix.
Switch off the flame and transfer the khara bath to a serving plate and your khara bath is ready to be served. Garnish it few a few chopped coriander leaves and cashews. Serving khara bath and kesari bath is a perfect Chow chow bath breakfast to be prepared at home.
Read our blog – Homemade ghee (long term butter storage)

Shelf life of rava kesari
Rava kesari can be stored for about 2-3 days in refrigerator.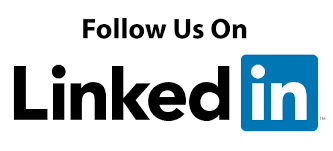 Though rava kesari is called with different names throughout India and there are few minor differences in the taste and flavour of the rava kesari. But desi ghee and sugar does all the magic with rava and the dry fruits roasted in pure ghee. The quick jick rava kesari is very easy to prepare. Just see to that the rava is roasted well and you don't let the formation of lumps in any stage. This festive season prepare rava kesari for naivedya or you can also try out the south Indian style Chow Chow bath. Try it out for breakfast and let us know about your feedback. We would surely love to hear from you.