Crunchy on the outside and soft inside! Medu vada – A side food or you can also call it a snack that completes the South Indian breakfast varieties. This food of South India originated in a small place called Maddur, Karnataka. Being made of de-skinned green beans paste to green gram, chickpea or pigeon pea batter. It is mostly made from black lentils (urad dal) batter. It has different names according to different states in South India – Medu vada in Karnataka, ulundu vadai in Tamil Nadu, uzhunnu vada in Kerala, garelu in Andhra Pradesh and medhu vadai.

Medu vada is very popular all over India, and is relished by all. These small ring shaped dumplings made with flavorful urad dal batter, deep fried until golden. The flavor is gets you amazed when served with sambar and coconut chutney. It's surely a sheer delight. Let's get started with the preparation of the Medu vada!

Ingredients
Urad dal – 1 cup
Green chilli – ½ tsp (chopped)
Black peppercorns – 4 (crushed)\
Curry leaves
Ginger – ¾ tsp (chopped)
Salt
Directions
Wash and soak the lentils in water for about 3 hours.
Drain it off after the prescribed time.
Now add chopped chillies, crushed black peppercorns, a few curry leaves and chopped ginger.
Add them into a blender and make a thick paste by adding water slowly while blending.
Then add salt and mix it well.
Divide the batter into portions and keep them aside.
Dampen the palms with water and then take a small portion of the batter and make a hole in the centre with your finger.
Pour some ghee in the frying pan and let it heat.
Once the ghee is hot, put the vadas one by one and let it fry.
Once the vadas turn golden brown and crisp all the sides, drain them out.
Here, your medu vada is ready to be served.
Tips to follow
Before you choose the dal, see to that the dal is not much old stocked. The old stocked dals are pale yellow in colour.
If you do not soak the dal for at least 3-4 hours or if you do not add enough amount of water, your vadas can turn to be hard.
Do not add too much water at once while grinding the batter.
Do not grind the batter at a stretch, it will turn into a running paste.
If you have put excess water by chance you can add 1-2 tbsp of rice flour and beat it to get a good consistency.
You can also add poha if rice flour is not available.
To get good crispy and tasty vadas see to that the temperature of the oil is right. Before you start frying the vadas in the ghee, drop a droplet of the batter into the ghee. If it rises above quickly then you can continue frying the medu vadas.
If you add vadas into too hot ghee, the vadas will turn brown but will remain uncooked inside.
You can also add small pieces of coconut and roasted cumin seeds to the batter as well.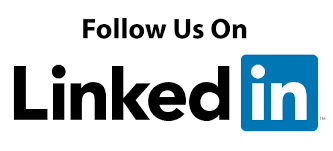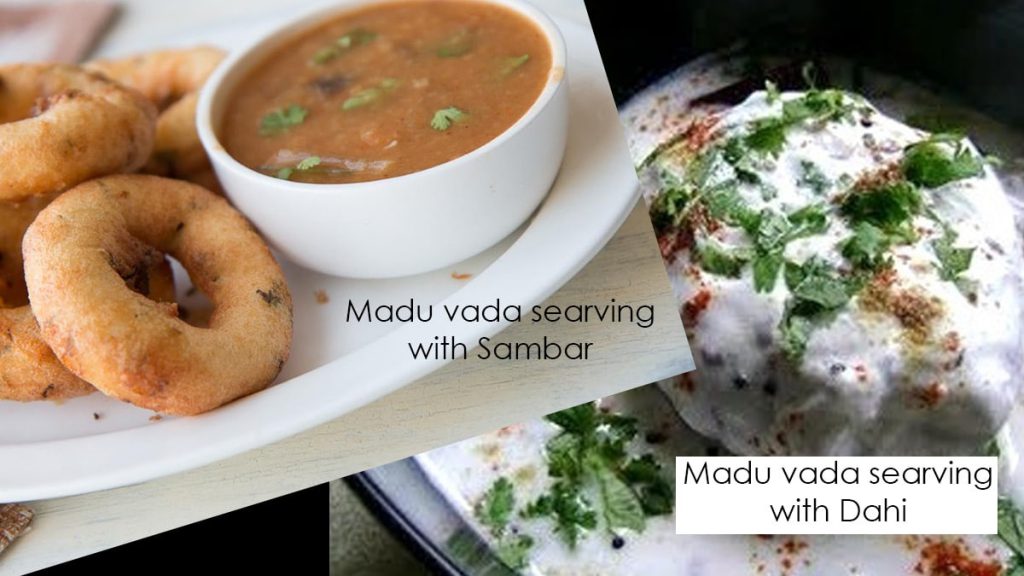 Serving tips
1. You can serve medu vada with hot and spicy sambar which is one the best fabulous combination followed from many years.
Hot and spicy sambar
Ingredients
Toor dal – ⅓ cup
Ghee – 1 tbsp
Mustard – 1 tsp
Jeera – 1 tsp
Chopped Garlic – 2 tsp
Chilli – 3-4 pieces
Curry leaves
Onion – 1
Tomatoes – 2
Turmeric powder – 1 tsp
Tamarind paste – 2 tsp
Salt
Sambar powder – 2-3 tsp
Coriander leaves
Directions
Wash toor dal and put it in pressure cooker with enough water. After about 3-4 whistles (after the dal becomes mushy and soft) keep the dal aside.
Soak tamarind in water for about 20-30 minutes to obtain a paste.
Take a pan, heat it and pour ghee.
Then add mustard, jeera, chopped garlic, chilli, curry leaves one by one and mix it.
Once you see that the garlic and chillies are well fried, add chopped onions to it.
Saute the onions until it turns golden yellow.
After it turns golden yellow add turmeric powder to it and mix well.
Add tomatoes to it and give a good stir.
Then add tamarind paste and salt according to your taste.
Now, pour the mushy toor dal into the pan and give it a good stir.
Add sambar powder to it and let the sambar boil under high flame.
Once the sambar is well cooked, garnish it with chopped coriander leaves.
And here your finger licking good sambar is ready to be serve with Medu vada!
2. Coconut chutney also enhances the taste of vada served with sambar.
Coconut chutney
Ingredients
Grated coconut – 1 cup
Green chilli – 2
Grated ginger – 1 tsp
Roasted chana dal – 1 tbsp
Salt
Water
Mustard seeds – ½ tsp
Red chilli – 1
Curry leaves
Ghee – 2 tsp
Directions
Put grated coconut, green chilli, grated ginger, roasted chana dal and salt according to your taste in a blender with some water.
Make a fine paste of the ingredients added and keep it aside. Do not add too much water that the chutney becomes too runny.
Prepare the tempering by heating desi cow ghee. Add mustard seeds, red chilli and curry leaves. Once the mustard seeds starts to crackle pour; off the flame and pour this tempering over the chutney.
Give it nice mix, and your coconut chutney is ready to serve!
3. Medu vada is also served with curd.
4. In Andhra Pradesh Medu vada is served with chicken curry which known as Minappa Garelu.

Why Medu vada is a staple breakfast?
Black lentils consists of Vitamin B and proteins
It is filled with iron, calcium, folic acid and magnesium.
When vada is deep fried in ghee it serves various health benefits to the one consuming. Consumption of ghee everyday is essential for the proper functioning of the body.
A spoon of ghee is also added on the top of medu vada soaked in sambar. Ghee gives an extra enhancement to the flavour and aroma of the food.
Read our blog – Why opt for A2 Desi Cow ghee?

Other types of medu vadas served all over the country
Masala vada
Mosaru vada
Maddur vada
Pepper vada
Thavala vada
You might have the tweet by the celebrity chef Gordan Ramsay which was quite an impolite comment about medu vada. There was a river of comments flooding the Twitter, which were against Gordon Ramsay's tweet. Though no tweets can let the south Indian food lovers from loving Medu vada. It surely tastes amazing and is a staple breakfast for many people out there.


Buy cow Ghee Online : Order Now. Free Shipping

Read our blog – Pure Desi Cow Ghee Price Online: 1 kg Ghee Price is ₹2390/-
Medu vada is usually served with hot sambar and coconut chutney. It tastes amazing when dunked in sambar. It is not a much difficult process to make medu vadas. The shape of the vada depends on the consistency of the batter. The only talent you need to develop while making them are the holes in the middle. Try out this mind blowing recipe at home. Once you try it, share your valuable comments and feedback. And we would love to hear from you. You can also buy pure organic ghee at our online store. Visit our website https://sureshfoods.com/to know more. Suresh Foods is a trusted online store which is not a dairy factory but a farm, and more than that a "Gau Mandir".