This yum-sum Mysore pak melts in the mouth and feels heavenly in the heart. It is one of those oldest traditional sweets which was originated in the age of kings and queens. Mysore pak is also known as "Royal sweet" in India. It is made using gram flour, sugar, ghee and water. You might be wondering why the sweet got its name as Mysore pak? Lets know about the origin of pure ghee Mysore pak and its name.

Origin of the royal sweet
Mysore pak got its name due to its origin. The king of Mysore, Krishnaraja Wodeyar IV had maintained a large kitchen in his Amba Vilas palace as he was a foodie. His chef Kakasura Madappa prepared a sweet just to experiment with pure ghee, gram flour and sugar. He made a thick paka, paka in Kannada means sweet concoction. The king was delighted by this heavenly tasting sweet and asked his chef for the name of the recipe. As it was prepared in the palace of Mysore, he named it as Mysore pak. Then the king insisted Madappa to put up a shop outside the palace so that the common people taste the amazing Royal sweet.

We should all be thankful to Madappa for experimenting the heavenly tasting sweet. Even now the ancestors of Madappa prepare Mysore pak at their home and sell them in their shops. In Mysore 'Guru Sweet' shop at Sayyaji road, Mysore is one of the most famous shop who is selling the purest and original form of Mysore pak till date.

Mysore pak is one such recipe which needs more practice. You can master the preparation of soft and mouth melting Mysore paks after few trials and errors. The flavour of ghee makes your Mysore pak taste rich and heavenly in the mouth. Let's not waste much time and get started with the preparation of pure ghee Mysore pak!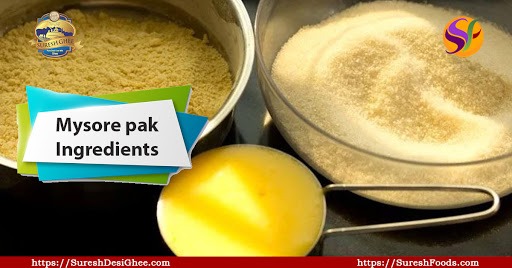 Ingredients
Gram flour – 50 gms
Sugar – 200 gms
Ghee – 100 gms
Water – ½ cup
Directions
Melt ghee and keep it aside, see to that the ghee is hot throughout the process. Grease a deeper pan and place it aside.
Take a non stick pan and add sugar into it and pour some water. Give it a good stir.
Stir it until the sugar syrup reaches one string consistency. Now, switch off the flame.
Pour a tablespoon of pure ghee in another pan and heat it.
Then add gram flour to it and mix it well.
Now start adding the gram flour which is mixed well with ghee, to the sugar syrup slowly and see to that it does not form any lumps.
Switch on the flame again. Add ghee slowly and keep stirring it. Don't let it become dry at any stage.
After 15 minutes the mixture will seem to be frothy. It will keep bubbling even after you have been stirring it well. Switch off the flame and it will form a thick mixture without sticking to the pan.
Once you feel it is at the right stage, transfer the mixture to the greased tray.
When it cools down you can cut them into different shapes.
Your pure ghee Mysore pak is ready to be saved!
Buy Pure Desi Cow Ghee Online : Order Now. Free Shipping

Tips to follow

If your sugar syrup isn't having the correct consistency, your Mysore pak will not come out properly.
Remove the mixture from flame after it gets frothy. If you don't remove it, your Mysore pak will become hard.
Add enough ghee to the mixture so that it stays soft without forming any lumps or hardening. But do not pour the ghee at once. Pour it little by little.
If the Mysore pak is unable to set well and seems to be gluey, it either means that your mixture is not cooked enough. If so pour it back into the pan and cook it for some more time. Or it may also mean that your sugar syrup wasn't of the right consistency.
Do not cook the mixture on a high flame as it may get burnt.
Do not cook the batter for too long as it may lead to hard Mysore paks.
If the batter seems to be frothy, then remove it from the flame.
Take a small piece of batter and put it into a bowl of water. If the Mysore pak turns to be hard immediately then it means you have overcooked the mixture.
If the piece of batter dissolves in water, it means you have to cook it more.
If the batter is firm and not sticking then remove the batter from the flame. And your cooking process is done.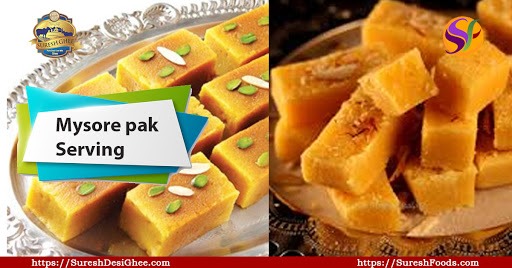 Additions to your Mysore pak
You can add cardamom powder to the batter of Mysore pak to enhance the flavour of the sweet.
You can also add desiccated coconut and sliced cashews to the batter of the Mysore pak.
If you want more brighter yellow colour for your Mysore pak, you can add turmeric powder which is a natural colour enhancer. If you do not prefer adding turmeric powder, then the whole colour of the Mysore pak is just because of the colour of ghee and gram flour.
You can also add strands of kesar to your Mysore pak to garnish it at the end.
If you like having your Mysore pak being garnished with cashews or pistas, you can garnish them as well.
Shelf life of pure ghee Mysore pak
Store it in a dry and cool place. Do not prolong its storage for more than a month.
Why pure desi ghee and not vegetable oil?
Ghee has a high boiling point. The ghee is hotter than the sugar syrup, hence it is preferable to cook gram flour better than the sugar syrup.
Some of them prefer using both vegetable oil and desi ghee. But using pure ghee keeps the texture perfect, soft and melts in the mouth leaving back an amazing taste.
Using of pure ghee enhances the flavour and aroma of the sweet. The ghee helps in softening of the Mysore pak and also melts in the mouth. You can prepare homemade ghee or buy pure organic ghee at our online store. Visit our website https://sureshfoods.com to know more.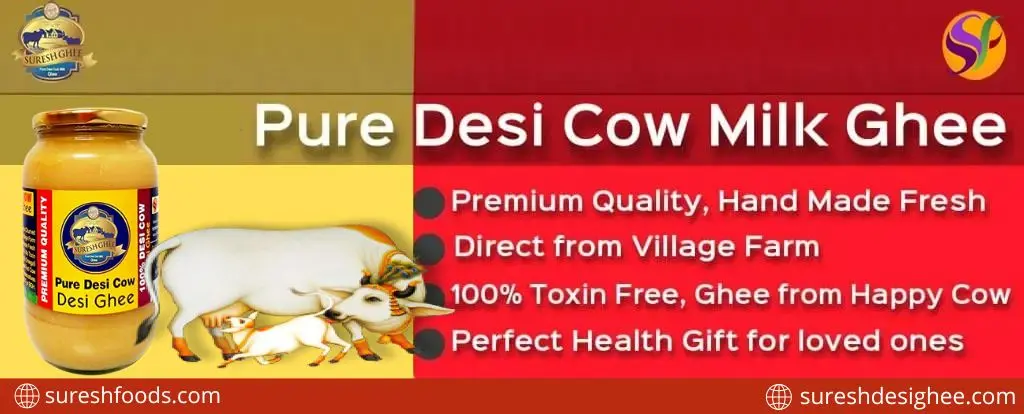 Preparation of the perfect Mysore pak is indeed an art. It needs practice to prepare soft and delicious Mysore paks. Even if you don't get the right consistency on your first try, give another try and keep the tips in your mind while preparing. It requires a whole lot of patience and practice as well. Try out the pure ghee Mysore pak at home and experience the divine feeling of the delight this festive season. Spread some love with your delicious sweets and also let us know about your feedback. And we would love to hear from you.