Today we chose things which are healthy, or considered to be healthy for us. We are more health conscious than ever, we chose fruits over fried, jaggery over chocolates etc. a long list of supplements to fill you snacks hunger. However, in India we have a long list of healthy snacks we can make at home. We will discuss few Indian traditional snacks and their health benefits, which are available online as ready to use snacks and can be ordered online easily.
Flax seeds are a kind of supper food, which we must include in our daily diet. Flax seed is a plant food, which is rich in omega-3 fatty acid, a nutrient that is known for providing a multitude of amazing health benefits of Flax Seeds and excellent for your skin, hair and overall health. 3 table spoons serving of flaxseeds contains:
Omega-3 (ALA) 6,338mg
Fiber 8g
Protein 6g
Vitamin B1 31% RDA
Manganese 35% RDA
Magnesium 30% RDA
Phosphorus 19% RDA
Selenium 10% RDA
Also, flaxseeds contain a good amount of vitamin B6, Iron, potassium, copper and zinc.
Health Benefits of Flax Seed
High in Phytochemicals and Antioxidants:
Cancer Prevention
Digestion Improvision
Prevent Cardiovascular diseases
Control High Cholesterol
Reduce Diabetes
Fight Inflammation
Reduces Hot Flashes
Lignans present in flaxseeds improve the skin appearance
Minimize skin irritation, rashes, inflammation and redness.
Shrinks the possibility of acne, dermatitis and psoriasis.
Antioxidants present in flaxseeds fight the free radicals, preventing skin cancer.
Nutrients like protein, calcium, zinc, magnesium, iron and omega 3 fatty acids help hair growth.
Anti-inflammatory properties of flaxseeds reduce the possibility of dandruff, eczema and other scalp conditions
Omega 3 fatty acids and other nutritious values in flaxseeds result in reduced hypertension.
Flax Seeds Ladoo:
Flax seeds (TISI) regular Ladoos are made with jaggery, which not only enhance the taste and texture of these ladoos; but supply two fold health benefits. Flax seeds and Jaggery both are natural health supplement for Indians since ancient times. These ladoos has health benefits of Jaggery and Flax Seeds.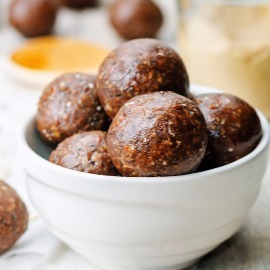 Jaggery prevents constipation by aiding digestion. It activates the digestive enzymes in our body, thus helps in proper digestion of food. That's why many people prefer eating jaggery after a meal.
It acts as a detox, as it helps cleanse the liver by flushing out nasty toxins from the body.
Jaggery is loaded with antioxidants and minerals like zinc and selenium, which help prevent free-radicals (responsible for early ageing). It helps boost resistance against infections, hence building stronger immunity.
Eating a piece of jaggery daily can help women combat PMS symptoms including mood swings, menstrual cramps and abdominal pain.
Jaggery acts as a natural sweetener and provides energy over an extended period of time. Even factory-made honey has been deemed unhealthy because it gets ripped of its nutrients. That's when jaggery steps in!
Flax seeds (Tisi) Ladoo with Dates No Artificial sweet,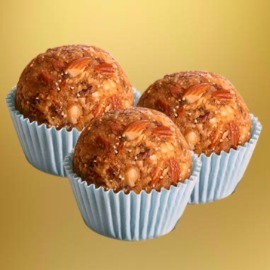 Flax seeds health benefits has been discussed above.
"Dates" is another supper food. Dates are a good source of various vitamins and minerals. Its also a good source of energy, sugar and fiber. Essential minerals such as calcium, iron, phosphorus, sodium, potassium, magnesium and zinc can be found in them. They also contain vitamins such as thiamin, riboflavin, niacin, folate, vitamin A and vitamin K.
The benefits of dates include relief from constipation, intestinal disorders, heart problems, anemia, sexual dysfunctions, diarrhea, abdominal cancer, and many other conditions. Dates are also good for gaining weight. Dates are one of the best sweet and versatile foods that can regulate the digestive process.
Flaxseed (Alsi/Tishi) Nimki –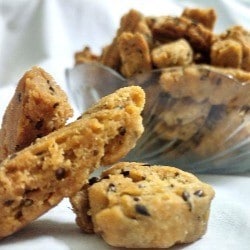 Nimik (Namakpare) are most favorite tea time snacks. Because they have to fry for their taste and texture, they are considered little less healthy. But Adding Flaxseed and fry in desi ghee will add nutritious value of Flax seeds and Desi Ghee, making them healthier than ever.
Thekua Made in Wheat Flour with Jaggery –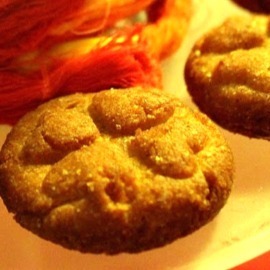 Thekua is one of the most popular sweet dish from Bihar state of India. It is also known as Khajuria, Khabauni or Thikari, and it is a dry sweet. It is one of the most popular sweet dish commonly used in Mithila region of North Bihar. Wheat the Jaggery make this fried snack a healthier snack. A taste way to be healthy.
Health Benefits of Wheat Flour and Jaggery :
Wheat is probably the most common cereal available all over the world and is in even higher demand in recent years due to its abundant health benefits. Whole Wheat Flour has vitamin B1,vitamin B2,vitamin B3,vitamin E, calcium, phosphorus, folic acid, copper, zinc, iron, and fiber.
Jaggery prevent constipation, act as detox as it help cleanse the liver. Jaggery loaded with antioxidants and minerals like Zinc and Selenium help prevent free-radicals. Jaggery acts as a natural sweetener and provides energy over an extended period of time.
Dry Fruit Laddu is an extensively cherished variety among several the laddus in India, well-recognised for its adaptability and diverse regional variations. Such delectable treats have no fixed recipe, enabling for personalization depending on individual interest. Whether the nuts are utilized whole or ground into a powder, the preparation technique stays flexible, leading to a laddu that serves varied tastes. Appropriate for consistent consumption as an energy bar or as a special occasion delicacy, this laddu provides a delightful experience.
The main ingredients adds to both flavor and nutritional value:
Dates, a rich source of antioxidants, support in reducing free radicals and shielding the cell damage. They also support heart and eye health.
Figs, being rich in fiber, caters as a prebiotic, enhancing digestive health and resolving related complaints.
Cashews, with their healthy fats, protein, and calcium consistency, improve both brain and bone health.
Almonds, rich in fiber, protein, and healthy fats, create an excellent contribution to a weight-loss-friendly diet.
Pistachios, providing protein, fiber, and potassium, aiding in eye and gut health.
Raisins, combined with antioxidants, add to fight cancer cells, while their iron consistency benefits cardiovascular health.
White Sesame Seeds, being high in nutrition and healthy unsaturated fats, support in reducing cholesterol and minimizing the risk of heart disease.
Together, such ingredients not only make a delightful treat but also grants a range of health benefits, creating a Dry Fruit Laddu, a versatile and nourishing choice.
Oats, Multi Grain Atta & Honey Thekua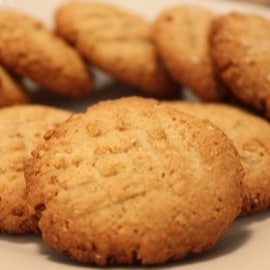 This is a traditional Thekua or Khajuria or Indian Traditional Cookies, which is one of its kind of Indian Cookie. This is revered prasad (offering to god) in the Chhath puja. It has been used as a sweet snack for centuries. This is a generation old tried and tested delicious recipe.
Benefits of Oats:
Oats are among the healthiest grains, which is a great source of important vitamins, minerals, fiber and antioxidants. Benefits of oat include weight loss, lower blood sugar levels and a reduced risk of heart disease
Benefits of Multigrain
Multigrain contains nutrients, fiber and essential minerals like magnesium, copper and iron. Multigrains that contain whole grains will be filled with essential fatty acids, B-vitamins, starch and fiber. Magnesium will help build strong bones and teeth. It will also help with metabolism. Multigrain foods will be high in complex carbohydrates and protein.
Benefits of Honey
Honey is a natural sweetener. Honey energizes our body, boosts immunity, fights bacteria, promotes healing of cuts and burns, remedies sore throat, cold.
SureshFoods is offering traditional authentic taste of healthy snacks online.
HOME MADE FRESH FOR EACH ORDER.