Desi Cow Ghee is prepared by Milk obtained by grass-fed cows. Cow ghee is the only proceeded Vedic ghee that is traditionally made by Bilona churned method through curd route. Cow ghee is considered a Sattvic food in Ayurveda and have been used in many medicines for its medicational properties.
Fact: One year or more years old ghee is potent medicine (So take it as a medicinal quantity and not in large quantity).
Doubt: Which breed's ghee? Can buffalo ghee or Jersey cow ghee give the same results?
Some procedural facts about Ghee:

Ghee should be from desi breed Bos Inducus
Milk should be procured as per ethics of worship
Ghee should be prepared using the traditional manthan method
Ghee should be preserved in a dark area of the home in a chini mitti bottle or glass bottle
Ghee should be prepared before sunrise by human interventions (without automatic machines)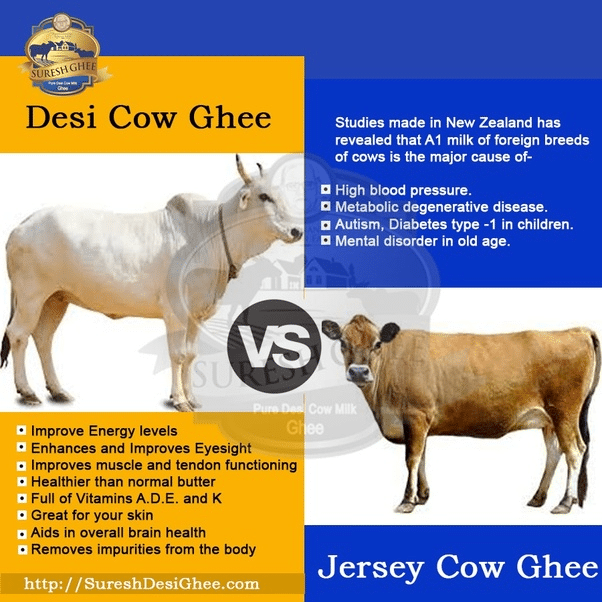 Why not Buffalo ghee or Jersey ghee?

1) SPIRITUAL REASON:

General tendency of Buffalo or Jersey cow is Tamasik in nature. Milk procured from them too carry their subtle nature. Tamasik tendency cannot cure any sickness. It is devoid of Prana shakti.

Buffalo is an exception in some cases as in few ayurvedic texts buffalo milk is prescribed as medicine but not buffalo ghee.

2) PHYSIOLOGICAL REASON:

Protein in Jersey milk is A1. It is now a well-established fact that A1 milk is not good to consume for humans. Besides, Jersey cow gives ample amount of milk so nutritional density in milk is lower than Desi Cow breed (and so prana shakti is also divided).

Buffalo milk's fat is not digestible i.e. long-chain fatty acids. So ghee is difficult to digest. A Person with Pitta tendency also feels hard to digest. In sickness, digestion power is at the lowest level.

Desi Gau mata as hump which helps to convert Prana shakti from the Sun and instill it in her prasad (mutra, gobar, milk). One of the fundamental reason for quick healing is : Prana shakti.

Buffalo and Jersey lacks this. So devoid of Prana shakti.

More potent prana shakti attracts more pro-biotics to colonized in old ghee. When you take them as medicine, it can heal the cell-level metabolism as well as organ-level metabolism.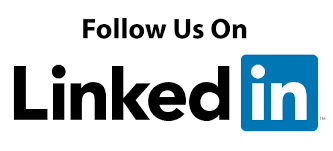 Ethics of worship Gau Mata: Do not treat her as a milk machine. Only take excess milk once calves are satiated. Do not force artificial pregnancies. Do not force hormones to increase milk yield. Do not keep them tied. They must graze daily in an open field.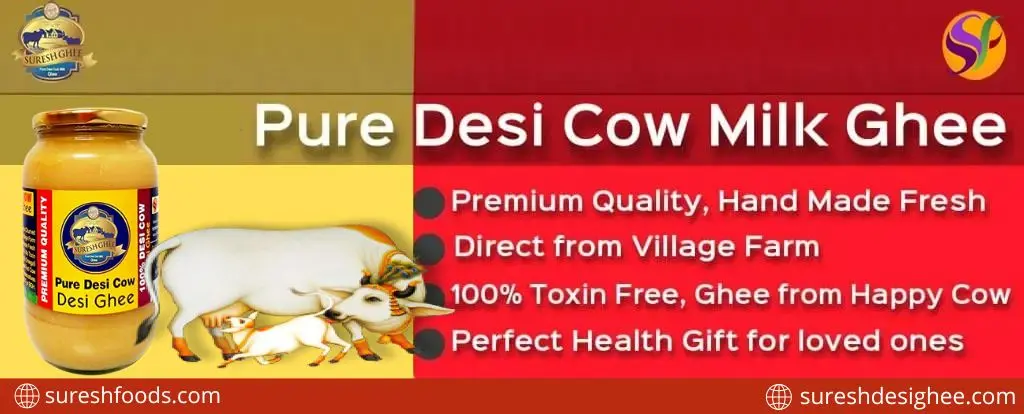 Desi Cow Milk Ghee is mentioned in the Bhagavad Gita, the Dharmasutra (an ancient Indian law book), and in the Rig Veda in approximately 1500 B.C.E. In Hindu mythology, ghee was created when Prajapati, the lord of creatures, churned it with his hands and used it to spawn his own offspring.
In short, ghee is tied into the most fundamental acts of creation. There is no doubting about ghee's religious significance, given that nearly all of the most important Hindu ceremonies–from birth through to death. Religious statues are even cleaned with ghee, and holy lamps are fueled by it–a well-intended sacrifice enshrined in the immortal lines of the aforementioned sacred text, the Rig Veda.
This is the secret name of Butter:

| "Tongue of the gods," "navel of immortality."

We will proclaim the name of Butter.

While a significant amount of ghee made and sold in India is made from buffalo milk butter, only ghee made from cow's butter (must be grass-fed!) has religious significance.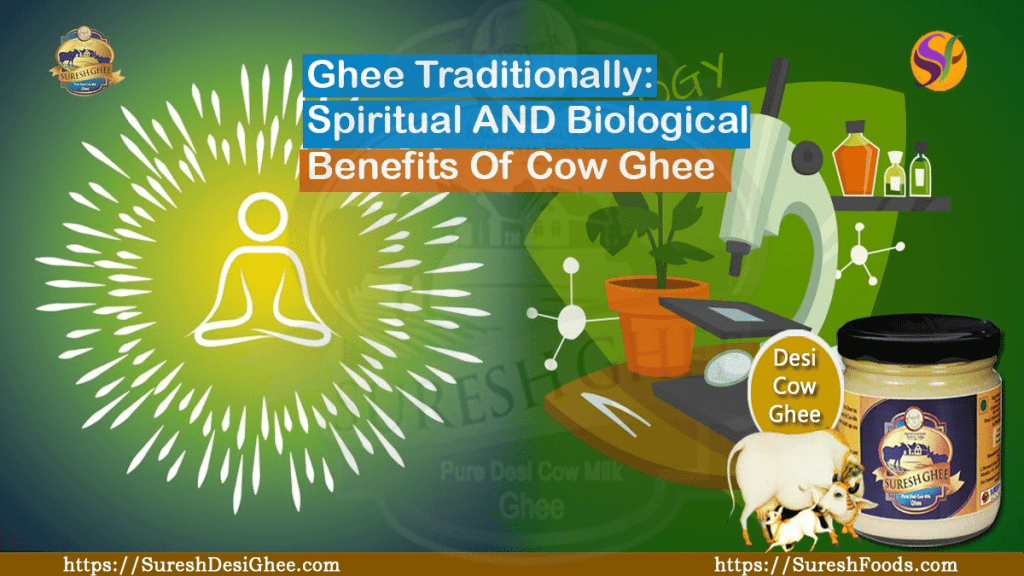 Desi Cow Ghee is a perfect source of many essential vitamins, healthy fats, energy, and a lot more. It has been an important part of Indian cuisine and its importance can also be found in our scriptures mentioning Lord Krishna tells about the importance of pure desi cow ghee.
In Ayurveda, ghee acts as a perfect medium for herbs. Ghee also plays an important role in hawan purifying the air and killing harmful bacteria, curing diseases, etc. There are numerous benefits of ghee mentioned in Ayurveda and it is an indispensable part of our cuisine but all these benefits belong to only pure desi ghee made from milk of only desi cows which are free to graze and eat healthy feed and fodder as per season.
The benefits of consuming cow ghee
Cow ghee contains nutrients together with antioxidants, antifungal and antibacterial properties which helps a private not with one but with many problems. It promotes digestion, helps in developing bone, protects arteries, provides immunity, and plenty of more.
Cow ghee contains nutrients together with antioxidants, antifungal and antibacterial properties which helps to control not with one but with many health problems. It helps boost immunity.
Cow ghee helps in enhancing digestive systems by stimulating the secretion of enzymes, it's also easy to soak up because it contains lower chain fatty acids.
If you have bowel issues then a spoonful of cow ghee mixed with milk can facilitate you to accommodate your bowel problems.
As cow ghee contains vitamin K2 which helps in lowering the calcium depositions in the arteries, it helps in protecting arteries from getting damaged easily. It also helps within the functioning of the guts and boosts the nice cholesterol level.
If you eat cow ghee on a day-to-day basis it promotes lubrication to bones and also increases bone strength. Cow ghee helps the sensory organs to figure appropriately and make your brain and body active.
For teenagers and children, cow ghee is best because it nourishes healthy bones and boosts the immune system. It also helps in maintaining a load of your child if he's underweight.
Consuming cow ghee during pregnancy is usually recommended by most doctors too. It nourishes the health of the woman still as it prevents the newborn from problems that will arrive after the birth.
Cow ghee also provides healing from external wounds. It may be applied over the infected area and you'll be able to see the results yourself after some days.
It also can help in increasing or improving one's eyesight with the consumption of cow ghee.
FAQ
How does A1 Beta Casein differ from A2 Beta Casein ?
The presence of the Beta-casein is the second most abundant type of protein found in milk, which occurs in two common variants in cow milk, known as A1 and A2. A1 variant of beta-casein is the protein type commonly found in most cows' milk that is considered damaging for human health. A2 variant of beta-casein, on the other side, is found in desi cow breeds and possesses better nutritional value and essentials relatively.
Consuming A1 Protein milk regularly can affect health ?
According to experts, the reason why most doctors recommend resisting A1 milk from your meal. It results into a string of proven risks as A1 rich milk leaves on human health, which involve:
Presence of BCM-7 (Beta-casomorphin) into A1 milk results in a heavy digestion process leading to digestive disorders and further contributory issues like inflammation, gas, stomach pain and cramps.
Type-1 diabetes
Heart disease (IHD)
Autism
Schizophrenia
Auto-immune diseases
Intolerances and allergies
What is organic milk ?
The production of pure, natural cow milk that is a rich source of A2 protein and preservative free. We breed cows that are grass-fed at the farm which naturally produce milk that consist of the A2 protein variant which can rather assure you that you are buying the right quality.
Can a lactose intolerant drink A2 milk ?
A2 milk is considered to be pure cow milk that has the similar levels of lactose as much in a standard cow milk which may not result in a cure to those who are medically diagnosed with lactose intolerance. Although, even with the existence of lactose, A2 milk, dissimilar to standard milk, enables you to enjoy multiple dairy nutrition without influencing your digestive health.